We believe that fieldwork is integral to geography and environmental sciences as subjects which fundamentally aim to understand the world we live in.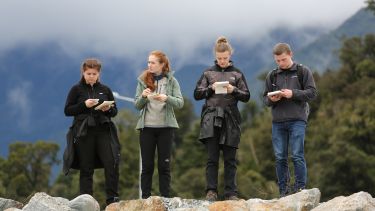 On
Experiential learning underpins and reinforces understanding of theory and concepts gained from lectures and reading. Fieldwork stimulates academic curiosity, hones observation and measurement skills, exposes our students to key challenges and issues of global societal importance, and allows students to make connections between social, physical and environmental processes at different scales.
Our fieldwork locations reflect our belief that fascinating geography exists on our doorstep.
The Department of Geography is located in an amazing natural laboratory. Students can easily explore the physical landscape of the Peak District, the challenges associated with living, working and farming in the country's oldest National Park, the rich cultural and social heritage of Sheffield, and environmental processes and issues arising across this region, where human activities and the natural environment are intertwined. We have run trips in locations such as the Edale Valley and the areas around Castleton and High Bradfield.
Given Sheffield's location in the UK, there are many interesting destinations within close reach. In the past we have run trips to Spurn Point and the Humber Estuary to investigate coastal processes and management, and visited the National Coal Mining Museum in Wakefield to assess the feasibility of using a former mining site for housing. Students also have the opportunity to spend the day volunteering at a local co-operative and getting involved in community activities. We have run four- and five-day trips to investigate urban geographies in Liverpool and the glacial, geological and environmental processes that have shaped the beautiful Lake District.
Our international field classes give you practical experience and training in diverse and unique environments further afield. The international classes take place at Level 2 and are typically residential trips five to seven days long — in recent years we have taken our BSc Geography and BSc Environmental Science students to Spain and BA Geography students to Berlin. We take an ethical and sustainable approach to planning destinations and consider the impact on local communities and the environment.
We plan and conduct our fieldwork to be as inclusive and accessible as possible, always considering the wellbeing, mental and physical health of students and staff, and all those who we encounter on fieldwork. We undertake Equality Impact Assessments on all fieldwork and publish the results for students.
Find the Royal Geographical Society - Fieldwork principle 4: Accessible fieldwork 
We are committed to making our undergraduate field classes financially inclusive. Costs for the core field classes at Levels 1 and 2 and the optional UK-based field classes at Level 3 are met by the department. This includes the costs of travel, accommodation and food during your residential stay.
Students are expected to purchase their own personal equipment (e.g. appropriate clothing and footwear) for field class attendance, and to fund aspects of the Level 3 dissertation project if their project involves fieldwork (e.g. travel, food and accommodation). Students will be expected to fund any optional field classes to international destinations at Level 3. The associated costs will depend on factors including the destination, the number of students participating, and fluctuations in travel costs/fares. Students who desire financial support are encouraged to apply to our departmental scholarship scheme.
At Level 1 you will learn and apply essential field skills such as qualitative techniques, environmental sampling and laboratory analyses in Sheffield and the surrounding Peak District. This typically includes a three-day field class to the Peak District in the first semester that also helps you to get to know staff and your fellow students.
Peak District (Edale) - three days
---
At Level 2 you will be introduced to more advanced techniques and have the opportunity to develop and apply your research skills. Key areas of learning include observational skills and fieldwork planning, and specific methods of measurements and of qualitative/quantitative data collection. This is coupled with analysis and interpretation of results. A strong emphasis is placed on group work.
On the residential field class at this Level, you will undertake a small group project in the field and present your findings. The experience gained will give you insights into different approaches and challenges of field-based inquiry, and resonate with what you learn about research design as another part of the module. It will also give you a first taste of independent field working in a small group setting. This experience forms a vital foundation of any fieldwork you tackle in Level 3, whether in an optional module or in your independent research project (dissertation).
Residential field class at Level 2 - typically seven days in a European destination
---
At Level 3, optional field class modules exploring UK destinations provide advanced, in-depth experiences that have a stronger research flavour and/or strong links to an existing framework of research for the area visited. Fieldwork remains group-based, but you will tackle projects that are now more substantial, and that are often grounded in debates and issues specific to the environment, processes and systems of the destination. The experiences will help you develop crucial transferable skills as well as gain specialised knowledge.
The content of our courses, including field class destinations, is reviewed annually to make sure it's up-to-date and relevant. Individual modules are occasionally updated or withdrawn. This is in response to discoveries through our world-leading research; funding changes; professional accreditation requirements; student or employer feedback; outcomes of reviews; and variations in staff or student numbers. In the event of any change we'll consult and inform students in good time and take reasonable steps to minimise disruption.
Study with us
Join an international community of geographers and help tackle the biggest issues in our changing world.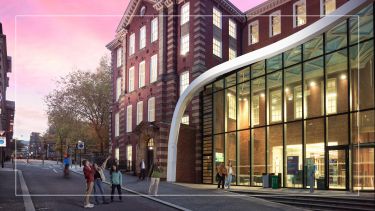 Visit us
Discover what sets Sheffield apart at our undergraduate open days on the Saturday 21 October or Saturday 18 November.