We believe that fieldwork is integral to geography and environmental sciences as subjects which fundamentally aim to understand the world we live in.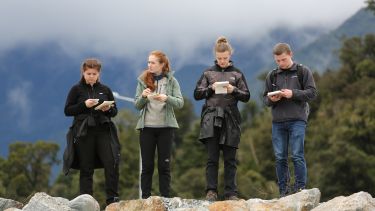 Experiential learning underpins and reinforces understanding of theory and concepts gained from lectures and reading. Fieldwork stimulates academic curiosity, hones observation and measurement skills, exposes our students to key challenges and issues of global societal importance, and allows students to make connections between social, physical and environmental processes at different scales.
Our fieldwork locations reflect our belief that fascinating geography exists on our doorstep.
Locally
The Department of Geography is located in an amazing natural laboratory. Students can easily explore the physical landscape of the Peak District, the challenges associated with living, working and farming in the country's oldest National Park, the rich cultural and social heritage of Sheffield, and environmental processes and issues arising across this region, where human activities and natural environment are intertwined.
Nationally
Given Sheffield's location in the UK, there are many interesting destinations within close reach. In the past we have run day trips to Spurn Point and the Humber Estuary to investigate coastal processes and management. Students also have the opportunity to spend the day volunteering at a local co-operative and getting involved in community activities. We have run four and five-day trips to investigate the urban geographies in Liverpool and the glacial, geological and environmental processes that have shaped the beautiful Lake District.
Internationally
Our field classes give you practical experiences and training in diverse environments. We take an ethical and sustainable approach to planning destinations and consider the impact on local communities and the environment. 
Organising domestic destinations for field classes keeps costs low for students and minimises our carbon footprint. Due to the impact of Covid-19 on countries and travel worldwide we can't promise international destinations for field classes, but this is not ruled out as a possibility.
At Level 1 you will learn and apply essential field skills such as qualitative techniques, environmental sampling and laboratory analyses in Sheffield and the surrounding Peak District. This typically includes a 3-day field class to the Peak District early in the first semester that also helps you to get to know staff and your fellow students.
Peak District (Edale) - 3 days (included in tuition fees)
---
At Level 2 you will be introduced to more advanced techniques and have the opportunity to develop and apply your research skills. Key areas of learning include observational skills and fieldwork planning, and specific methods of measurements and of qualitative/quantitative data collection. This is coupled with analysis and interpretation of results. 
A strong emphasis is placed on group work. On the residential field class, you will undertake a small group project in the field and present your findings. The experience gained will give you insights into different approaches and challenges of field-based inquiry, and resonate with what you learn about research design as another part of the module. It will also give you a first taste of independent field working in a small group setting. This experience forms a vital foundation of any further fieldwork you tackle in Level 3, whether in an optional module, or in your independent research project (dissertation.) 
Residential field class at Level 2 - typically 4-5 days in a UK destination (included in tuition fees)
---
At Level 3, optional field class modules provide advanced, in-depth experiences that have a stronger research flavour and/or strong links to an existing framework of research for the area visited. The fieldwork remains group-based, but you will tackle projects that are now more substantial, and that are often grounded in debates and issues specific to the environment, processes and systems of the destination. The experiences will help you develop crucial transferable skills as well as gain specialised knowledge. 
---
Costs
All of our core field classes at Levels 1 and 2 are included in your tuition fees. Optional field classes at Level 3 are not. Our focus of exploring UK-based destinations means that the costs of these field classes can be kept to be as affordable as possible. Students who desire financial support are encouraged to apply to our departmental scholarship scheme.  
Costs for optional field classes vary depending on a number of factors, including but not limited to the destination, the number of students participating, and the fluctuations in travel costs/fares. We will inform students as early as possible of the cost of any optional field classes that they have planned to take. 
---
The content of our courses is reviewed annually to make sure it's up-to-date and relevant. Individual modules are occasionally updated or withdrawn. This is in response to discoveries through our world-leading research; funding changes; professional accreditation requirements; student or employer feedback; outcomes of reviews; and variations in staff or student numbers. In the event of any change we'll consult and inform students in good time and take reasonable steps to minimise disruption.
Study with us
Join an international community of geographers and help tackle the biggest issues in our changing world.