Benefits of studying in Sheffield
With almost 30,000 students from over 144 countries, Sheffield is home to an incredibly diverse and welcoming community. It's a fantastic base for UK and European travel and is one of the safest major cities in the UK (UK Peace Index).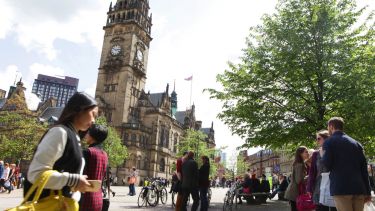 Whether you're joining us for a semester or one year, you will be taught and supervised by world-leading academics who are experts in their field. Our students are encouraged to work on and develop their research, analytical and leadership skills, as well as their confidence and adaptability and if English isn't your first language, studying in the UK will help to improve it. 
As well as academic development and success, we want our students to flourish in other aspects of university life. Our Students' Union is at the heart of student life and number one in the UK (Whatuni Student Choice Awards 2019) and provides a range of clubs and societies, events, activities and volunteering opportunities to enhance your student experience. It's a wonderful opportunity to make friends and connect with those who share similar interests to you. 
Guaranteed accommodation
Those coming to study for a full academic year are guaranteed accommodation provided certain conditions are met. We have a number of different accommodation options and single rooms available. Staying in accommodation is a great way to make new friends and share your university experience with others.
You can find further information by visiting the accommodation website. 
Support
We aim to provide a secure, friendly and academically stimulating environment. Whether you're with us for a semester or a year, your contribution to campus life is valued, and your welfare is important to us.
From English language support to advice and help on your academic studies and money management. We have an extensive network of welfare and advice services to help you adjust to life here and give practical help when you need it. Visit our support services webpage for more information. 
A world top-100 university
We're a world top-100 university renowned for the excellence, impact and distinctiveness of our research-led learning and teaching.