Gender & History Symposium, 19 - 20 May 2022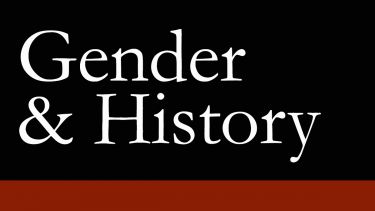 ---
Description
Women's Rights as Human Rights:
Global Contestations in the Longue Durée.
A Symposium for Gender & History
19-20 May 2022
University of Sheffield
Organisers: Celia Donert (Cambridge) and Julia Moses (Sheffield)

**The symposium will take place in hybrid format. Registration open. Please contact j.moses@sheffield.ac.uk to reserve a place.
Nearly thirty years ago, the phrase 'women's rights are human rights' was popularised at the 1993 UN World Conference on Human Rights in Vienna, and by US First Lady Hillary Clinton's speech to the 1995 UN World Conference on Women in Beijing. The recognition of women's human rights at the UN in the 1990s was achieved through a focus on sexual violence and reproductive rights. The success of transnational activist campaigns to recognize 'women's rights as human rights' is conventionally associated with the political spaces that opened up due to the end of the Cold War.
This symposium hosted by Gender and History, and the published forum to which it will contribute, seeks to reassess these narratives by thinking about the longue durée of the relationship between women's rights and 'human rights', however those 'rights' were articulated. It asks how women's rights were contested globally, whether in the context of humanitarian campaigns during the nineteenth century, interwar discussions about citizenship, movements for decolonization and national self-determination, at the United Nations, or as part of contemporary projects of neoliberalism and neoconservatism. In doing so, it also aims to historicize and critique the liberal genealogies which anchored women's rights in a post-Cold War moral politics of human rights and humanitarianism. At the same time, it seeks to understand the emergence of gender as a category in human rights discourse and practice, and the gendered visions of human rights that were transformed, pushed aside or even excluded by the post-1989 discourse that focused explicitly on 'women's rights as human rights' as well as its historical antecedents.
Papers explore the multiple genealogies of the relationship between women's rights and human rights. In so doing, they investigate different chronologies in the history of universal women's rights. The aim of this symposium is less to rehearse the well-known debates within human rights history about 'breakthrough' moments, and rather to open up a conversation about the different conceptual, intellectual, and temporal frameworks shaping the global history of women's rights.
Thursday, 19 May 2022
10.15 Welcome –Celia Donert and Julia Moses
[Firth Court, Council Room]
10.30 Panel 1: Women's Rights and the Human Rights 'Breakthrough'.
Commentator: Mary Vincent (Sheffield)
[Firth Court, Council Room]
From California to Nairobi: The Alliance Against Women's Oppression and Women's
Rights after and before the U.N. Decade for Women Conference of 1985
Bruno Walter Renato Toscano, University of Pisa
Women, Gender and Human rights: Women's International Organisations and Solidarity
with Chile
Dr María Fernanda Lanfranco, University of York/ Pontificia Universidada Católica de
Vaparaíso, Chile [ONLINE]
"Once and For All": Hillary Rodham Clinton, the Fourth UN World Conference on Women,
and the Institutionalization of Women's Rights in American Foreign Policy
Rebecca Turkington, University of Cambridge
100-2.30 Panel 2: Women's Rights and Empire: Humanitarianism and Legal Reform
Commentator: Esme Cleall (Sheffield)
[Diamond Workroom 3]
"The Cooch Behar Marriage of 1878": Mapping Women's Rights, Human Rights and Legal
Reforms in Colonial Bengal
Mallarika Sinha Roy
Centre for Women's Studies, Jawaharlal Nehru University, New Delhi
The marriage bar and married women's right to do paid work: international organisations,
human rights and workers' rights, c.1880-c.1975.
Helen Glew
University of Westminster
Promoting women's rights, hiding the empire: French women's associations, the United
Nations and decolonization
Anna Nasser
Scuola Superiore Meridionale - University of Naples
300-415 Keynote Lecture: Women's Rights as Human Rights after the End of History
Celia Donert, University of Cambridge
[Diamond Lecture Theatre 2]
Chair: Siobhan Lambert-Hurley (Sheffield)
Friday, 20 May 2022
10.30-12 Panel 3: Women's Rights, Human Rights, Reproductive Rights
Commentator: Parveen Ali (Sheffield)
[Firth Court, Council Room]
Reproductive Rights Are Women's Rights. The Left Women's Movement in Europe and
Their Claim for Sexual Self-Determination at the Turn of the 20th Century
Mirjam Janett, PhD, University of Berne, Switzerland
'Women's control, not population control!': the global women's health movement, the
United Nations, and the emergence of reproductive rights principles (1970s-80s)
Dr Maud Anne Bracke, University of Glasgow and Ghent University [ONLINE]
Genocide, Violence against Women and Reproductive Rights in Reunified Germany
Jane Freeland, German Historical Institute London
1-3 Gender & History Editorial Collective Meeting (for collective members only)
[Firth Court, Council Room]
Events at the University
Browse upcoming public lectures, exhibitions, family events, concerts, shows and festivals across the University.