The Munich Crisis, Politics and the People Book Launch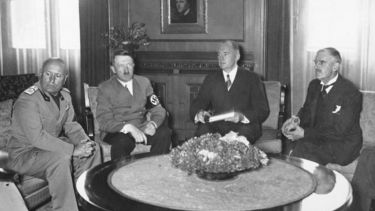 ---
Description
The People in Times of Crisis: Past and Present: Book Launch event for The Munich Crisis, Politics and the People
Convened by  Prof. Julie Gottlieb (University of Sheffield), Prof. Daniel Hucker (University of Nottingham) and Prof. Richard Toye (Exeter University), and chaired by Prof. Gaynor Johnson (University of Kent)

Please join us for this event when we will launch our new collaborative book The Munich Crisis, Politics and the People. The authors came together for a conference in 2018, the 80th anniversary of the signing of the highly controversial but pivotal Munich Agreement, a diplomatic event that was all-absorbing for people throughout Europe and beyond. The days, weeks, and months when the world was on the brink of another global conflict war were days of acute crisis, uncertainty, anxiety, and private and public suspense and nervousness. At this event we will come together to reflect on the Munich Crisis in light of the current global crisis, hearing unmistakable resonances, drawing some parallels, as well as thinking about how the 'People's Crisis' of 1938 differed in important ways from the all-consuming global pandemic today. 
This event will be chaired by Prof. Gaynor Johnson, with short presentations by the editors, and Q&A with the contributors.
Events at the University
Browse upcoming public lectures, exhibitions, family events, concerts, shows and festivals across the University.