As a PhD student, you'll have access to a range of training and development opportunities to help you get the best out of your research and develop professionally.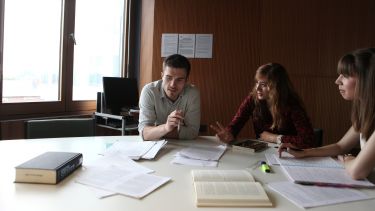 On
The History department aims to create a research culture where your ideas can develop and flourish, and provide you with the facilities and support to complete your research project successfully. 
Your supervisor will be there to provide academic guidance, support and direction throughout your PhD, to ensure that you are able to develop your research skills and take full advantage of the professional development opportunities available to you within the University and wider national and international networks.
---
As part of your PhD degree you will take part in the University's Doctoral Development Programme (DDP) - a flexible, on-going training plan that is an integral part of your PhD degree and can be tailored to your individual needs.
The aim of the DDP is to provide you with a range of skills and training opportunities orientated both towards your specific PhD study and future employment, equipping you with transferrable skills that will make you not only a successful researcher, but also able to easily assimilate skills that have wider utility, thus extending your employability to other professions.
Working with your supervisory team, you will identify the skills you already have and have opportunity to enhance these as well as acquire new skills and experience.
Training may be provided through attending modules offered within the Department or University, including through our Virtual Graduate School, but your developmental needs may also be about gaining different forms of experience such as networking, or focusing on particular aspects of presentation and study skills.
Training needs analysis
To support the DDP, you will undertake a training needs analysis (TNA) and devise a personal development plan. Your TNA is reviewing annually and tracks your development and is focused on acquiring skills in becoming an effective researcher; advanced research and career skills; scholarship and engagement and subject-specific skills.
Doctoral Development Programme
---
Teaching can provide valuable experience and help you to develop a broad range of personal and presentation skills.
The Sheffield Teaching Assistant
If you're interested in developing your teaching skills, there are professional development workshops available to provide you with invaluable support and skills. The workshops are fully integrated with the DDP.
---
The Modern Languages Teaching Centre (MLTC) provides languages modules to students who require language capability to support their research. Available languages include Latin, Arabic, French, German, Italian, Portugese and Spanish.
MLTC modules can be take as part of the Doctoral Development Programme where they are directly relevant to your research.
---
Getting involved in the department's research community is a great way to find out more about research being undertaken both in your area of interest and across the discipline more broadly. It also gives you the opportunity to present your own research at postgraduate discussion groups, workshops and the annual PhD Colloquium.
Our PhD students can also take part in a variety of national and international conferences, helping you to develop the skills needed to successfully communicate your research and develop valuable networks.
For funded students, financial support may be available via your sponsor. There are also departmental and faculty research funds that students can apply to.
Our postgraduate community and research culture
---
Contributing to the department's History Matters blog is a great opportunity for students in the department to hone their writing and publication skills.
The Faculty of Arts and Humanities also publishes a journal called Trackchanges, which releases issues bi-annually on broad themes.
Track Changes is run by postgraduate students, as editors, copy editors and peer reviewers, and publishes student research.
Your supervisor will also support you to seek professional publication of your work as appropriate as you progress through your degree.
---
The Careers Service offers extensive help to PhD students including individual consultations and tailored guidance on topics such as:
Skills for researchers
CVs and covering letters for researchers
Interview tips for researchers
---
The library offers a range of information skills tutorials and workshops to help support your research, writing and communication on topics such as:
Discovering rare books and archives in Special Collections
Questioning and evaluating information
Blogging - from concept to communication
---
If you are funded by the White Rose College of Arts and Humanities (WRoCAH) then you will also take part in the WRoCAH training scheme.
This includes a range of events across your three years of study on topics such as becoming an independent and international researcher; knowledge exchange and transfer and career planning.
You will also take part in three projects:
Year one: Exploring international dimension of research
Year two: Researcher Employability Project (REP)
Year three: Knowledge Exchange Project (KEP)
Internationalisation and KEP projects will relate directly to your thesis topic and, therefore, contribute directly to your PhD.
The REP will be on an area not related to your thesis, and is intended to ensure that you are prepared for taking a step outside of academia to experience applying your research skills in a totally new environment.
Each project is a month long and this time is included in your funded period of study. The REP can be extended for longer, usually 1-3 months, depending on the project, with additional funding available.
Students also have the optional opportunity, depending on thesis requirements, to undertake additional language training of a full month or more.
Find a PhD
Search for PhD opportunities at Sheffield and be part of our world-leading research.