The #happysheffield project was part of Festival of the Mind 2016. The project measures happiness (and seven other emotional states) via an "affect analysis" of the words used by twitter users in Sheffield.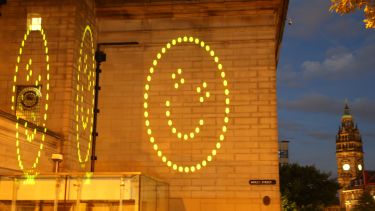 The #happysheffield project was a collaboration between Dr Chris Blackmore from the School of Health and Related Research, Dr Mark Stevenson from the Department of Computer Science and two creative partners in Sheffield, Human Studio and Ignite Imaginations.
The aim was to provide a visualisation of happiness levels in the city of Sheffield through the automatic analysis of social media data. 
Live results of the Twitter analysis were displayed at the Futurecade exhibition in the Millennium Gallery from the 17 - 25 September and were projected onto buildings throughout the city centre during Festival of the Mind 2016.
The team also produced a dedicated website showing an analysis from the last 50 tweets from Sheffield and allowing users to compare these with an analysis of their own Twitter activity.
50 people attended the #happysheffield talk and 9,472 people visited Futurecade. The website is still online and showing live results. 
Events at the University
Browse upcoming public lectures, exhibitions, family events, concerts, shows and festivals across the University.