Postdoctoral Research Associate at the Department of Psychology.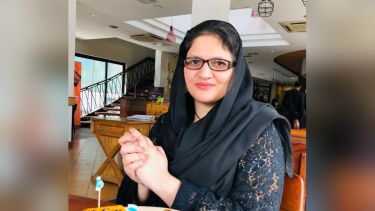 Off
I am a Postdoctoral Research Associate, human and animal rights and environmental activist, social psychology researcher and bilingual poet. My research interests are in climate change behavioural research, diversity, inclusion and disability, and peace and conflict research. 
I joined the University in 2013 for my PhD in Psychology. My research was in the area of social psychology and developmental psychopathology, with my thesis focusing on the gender differences in physically aggressive and non-aggressive antisocial behaviours, and the roles of callousness, sensation seeking, and affective dissonance. I have six papers published based on my PhD thesis. 
Before that, I completed two of my MSc degrees in Applied Psychology at Middlesex University and University of the Punjab, and I have attained two bachelor degrees – one in Psychology, Education and Sociology from University of the Punjab, and the other in Home Economics from the College of Home Economics in Lahore, Pakistan. 
As a Postdoctoral Research Associate at University of Sheffield, I specialise in environmental and social psychology research. I am part of the research team working on the Grantham Centre's Many Happy Returns Project, where I focus on the willingness to reuse plastic, particularly plastic reusable bowls in the Vytal scheme. This year, I had three publications in the areas of social psychology and health literacy, and presented a poster on cross cultural research at the University's Dementia Futures conference. 
Beyond my research work, I am a thesis mentor through Think Ahead, ethics session facilitator and e-Mentor at Sheffield Careers Service to support students' careers as part of the alumni mentoring programme at University of Sheffield, UK.
Outside the University, I am thesis mentor and advisory panel member at the Commonwealth Scholarship Commission. This is in addition to representing Pakistan in the advisory council of Global Network of Psychologists for Human Rights, and my voluntary role as a career and research consultant. I am also part of Bridge the Nations, a creative writing venture that connects writers from around the globe.
I spent more than 13 years at the Lahore College for Women University in Pakistan, first as a Lecturer in Psychology and member of the International Resource centre, and then as Assistant Professor of Applied Psychology. In the past, I worked as a Psychology Tutor, helping students from across the world succeed in their academic journeys. I also held various research positions, including at a corporate training and consulting firm, non-profit organisation that works with women and children (Khoj Society for People's Education), and Gallup Pakistan, a leading survey research and consultancy firm in Pakistan and the oldest national research and public opinion organisation.
My main achievement is being a Commonwealth scholar for life and being a part of the American Psychological Association Minority Fellowship Program family. In 2021, the British Council selected me as a Finalist for Professional Achievement in Psychology in Pakistan. During my PhD years at University of Sheffield, I was a student representative at the University Research Ethics Committee between 2014 and 2016. My LinkedIn is full of various things which I call my struggles and continuous persistence or stubbornness in grabbing opportunities for achievements.
My goals for the future are to produce high quality research publications with local and global behavioural and policy impact, create strong research partnerships across institutions and countries around the world, and get involved in active public outreach work to reverse and reduce climate change. 
I would also like to create awareness of disabilities, such as dementia and informal adoption. The latter includes adult adoptees who were informally adopted children in stepfamilies, adopted orphans and disowned children with happy adopted lives. They are deprived of their adoptive rights, such as in the case of guardianship, and have difficulty in getting their adopted social identities recognised in primarily developing societies and as immigrants in developed societies. 
My goal is to conduct research that has an impact for people living with these disabilities and people who form the support network for people with these disabilities. I am also working to achieve HEA Fellowship through mentoring, ethics facilitation, and other activities.
Report + Support
An online platform for all staff and students to report and access support about harassment and discrimination of any kind.