Our students rank us among the best universities for interdisciplinary programmes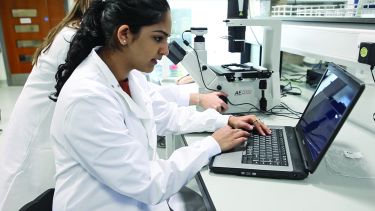 This year's National Student Survey (NSS), produced excellent and consistent results for the Faculty of Engineering, but particularly for Interdisciplinary Programmes in Engineering.
For the third year running, aeronautical and aerospace engineering at the University of Sheffield has been ranked number one for overall satisfaction in the Russell Group, the association of leading UK research-intensive universities, and in the top-three for the subject of general engineering.
Overall, the University came eighth in the country for overall satisfaction in our bioengineering and medical and biomedical engineering programmes.
The annual survey canvasses students that are in their final year of study for their experience of the University and includes questions on learning and teaching, assessments and feedback, academic support and learning resources. 
Our students gave us a score of 94% for overall satisfaction for general engineering, with emphasis on the University's general engineering learning opportunities (97), teaching (95) and academic support (95). In addition to being ranked first in the Russell Group for overall satisfaction, with a rating of 92%, our students gave a score of 91% for our aerospace learning resources.
Across the Faculty, mechanical engineering, materials technology, production and manufacturing engineering and computer science also ranked number one in the Russell Group. The results show that the University of Sheffield remains among the best for many engineering disciplines.
The annual league table has shown that overall satisfaction among University of Sheffield students across all faculties is two per cent above the national sector-wide average. The Students' Union also saw a score that is 15 per cent above the sector average for satisfaction, which places it first in the Russell Group.