Our learning and teaching
Our interdisciplinary teaching programmes develop students into versatile, creative and highly-skilled engineers.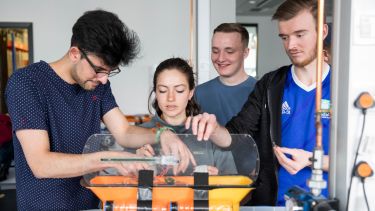 Off
Modules are carefully designed around a number of different engineering disciplines. Through our industry connections, such as our Industrial Advisory Boards (IABs), we utilise expert knowledge to regularly refine and update our teaching curriculum to support student employability.
Why study an interdisciplinary engineering course?
Students will be taught a range of concepts, at first seemingly different but over time, closely aligned. The pace of change in engineering, science, and commercial enterprise requires highly articulate and creative engineers to solve ever-complex problems. This is why an interdisciplinary approach is so important.
Studying interdisciplinary engineering is unlike any other of the engineering courses within the faculty, with the added benefit of a much broader field of study across the engineering faculty.
For example, Aerospace Engineering students will study seven disciplines, Bioengineering will study eight and General Engineering will study eleven. We feel that this gives students a distinctive edge in terms of their employability, engineering capabilities and rounded-understanding of working in multidisciplinary project teams.
By studying a range of modules from across the Faculty of Engineering, but also sometimes across the wider University, students are able to draw connections between the different subject areas, applying the knowledge gained in one discipline to another area of study.
By adopting an interdisciplinary approach across all of our degree programmes, students gain additional transferable skills in the areas of communication, presenting, teamwork and project management which are also highly valued.
Engineering expertise across the Faculty and beyond
We offer interdisciplinary learning in the following disciplines. Which disciplines studied will depend on a student's chosen course.
Aerospace Engineering
Bioengineering
Chemical Engineering
Civil Engineering
Computer Science
Control Systems
Electrical and Electronic Engineering
Energy and Sustainability
Management
Materials Science
Management
Maths
Mechanical Engineering
Medical Technologies
Medicine and Dentistry
What is the industry perspective on interdisciplinary engineering degrees?
Our focus on versatility is backed by industry. This is why our degree programmes are very much aligned to industry needs, with graduate interdisciplinary engineers in high-demand and much sought after by recruiters.
Our IABs, which are uniquely assembled for Aerospace, Bioengineering and General Engineering, includes skilled and experienced engineers. Recent graduates now working in industry are also on the IABs that share their insights about graduate job prospects, market trends and sector-wide developments.
---
The General Engineering degree course at The University of Sheffield is a wonderful opportunity for young students to experience a variety of engineering disciplines before making an informed decision on their future specialisation. In turn it gives business a pool of talented young engineers with a broadly based engineering qualification, supported by transferable skills which are increasingly important to industry."

Dr Pamela Liversidge OBE DL FREng

Industrial Advisory Board member for General Engineering.
---
Details about interdisciplinary learning - undergraduate programmes
The ability to work flexibly across a range of industries is one of our key objectives. Our graduates predominantly find themselves in engineering related-roles but also working in other sectors such as finance, technology and transport to name a few.
Our courses cover all aspects of the research, design, development, construction and flight of aircraft.
---
Study Bioengineering at Sheffield and you'll be part of extraordinary developments in science and technology
---
---
This course will provide you with a broad knowledge of engineering disciplines, from nanotechnology to civil engineering infrastructure. 
Science and Engineering Foundation Year
If you've studied the right subjects but haven't achieved high enough grades, or you've achieved good grades in unrelated subjects, this could be the route for you.