Global Engineering Challenge
The annual Global Engineering Challenge is a cross-faculty event aimed at developing our students' ability to take on real-life engineering projects.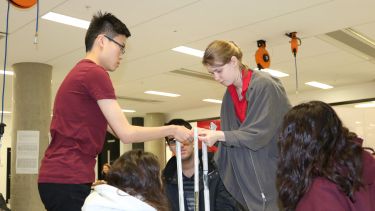 Off
In order to tackle the engineering challenges of the 21st century, it is important to possess teamwork, design, problem-solving, communication skills and global awareness, as well as technical knowledge. The aim of the Sheffield University Global Engineering Challenge Week is to introduce and develop these transferable skills, by working in a cross-faculty team to tackle a real-life engineering project. This experience should give students an insight into how they will approach to the 'big questions' of their future career:
What challenges will you face as professional engineers?
How will your decisions impact on the people around you and throughout the world?
How will you promote and defend your ideas?
How the challenge works
---
It's particularly important for the students to see other disciplines and to see that other disciplines bring something different to themselves.

Mark Wallace

Wabtec Rail (graduate employer)
---
Twenty or more projects are drawn from the Engineers Without Borders (EWB) Challenge and also from work by Dr John Quinn (a Senior Lecturer at the University of Makerere in Uganda and an Associate Lecturer at the University of Sheffield). Each year the EWB Challenge is based in a different developing country and in 2015, it will be in Nepal. Next year's projects will be drawn from those on the EWB Challenge website. In previous years, projects have included:
Innovative use of local materials for houses
Alternative renewable clean cooking technologies
Water purification at the household scale
"High tech solutions to low tech problems" summarises Dr John Quinn's approach and is exemplified by some of his projects which have been inspired from living and working in Uganda:
A Rhino-tracking network (to combat poaching)
Anti-corruption pharmaceutical drug distribution tracking
A mobile retinal scanner (to diagnose disease)
Based on your ranking of preferred projects, you will be put into a group comprising students from other departments to tackle a project. You will work in your group for one whole week (the last week in January) to come up with the best solution to your project. You will be challenged to think broader and deeper. Academics, Industry and EWB representatives will start this process.
During the week, your group will work alongside five other groups in your own "hub" room with your own PhD student facilitator and staff member. At the end of the week, each group will present their "best solution" with a supporting written document. Hub members (including students in the non-presenting group) vote to decide the winner! All winners get awarded certificates.
Outcomes for students
Learn about sustainability, project management and professional behaviours
Develop your personal effectiveness in team working, communication, giving and using feedback, and reviewing your own skills
Meet and learn from recent engineering graduates
Have a fantastic opportunity to develop and showcase skills you can later use to impress prospective employers
Make new friends in different engineering courses
Gain skills and experience attractive to employers
---
The type of skills students develop in this week can be used throughout their time at University; and these are the core skills we require from graduates when we recruit.

Ewan Ashburn

Atkins Engineering Consultancy (graduate employer)
A world-class university – a unique student experience
Sheffield is a research university with a global reputation for excellence. We're a member of the Russell Group: one of the 24 leading UK universities for research and teaching.