Engineering: You're Hired
Working in interdisciplinary teams from across the Faculty of Engineering, students take part in this week-long industry-led project as part of their second year.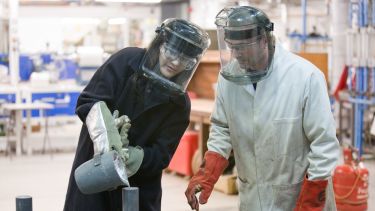 What's it like to work as a professional engineer? What skills do you need and how can you gain them as a student? This week-long project in your second year will enable you to do just that.
Graduates frequently report back that the project was one of the things that helped them achieve success in application forms and interviews, as it gave them something tangible to draw upon and set them apart from their competitors.
From initial concept through to presenting your project plan, it's designed to give you experience of working in the way industry does. You'll be guided by mentors from industry throughout.
Past projects have included designing:
A sustainable swarm robot system that is able to perform the monitoring for a precision agriculture system
A gadget to be used by cyclists to improve road safety
A fuel-efficient autonomous road vehicle
An adaptable additive manufacturing system for the design of large buildings.
Soft skills development
As well as the technical skills and knowledge that you'll gain on your Mechanical Engineering course, employers want you to be able to display a range of other 'soft' skills that will help you to:
Work effectively: can you set your own goals, making sure you tackle the key problems to achieve your aim? Can you manage your time so that you meet deadlines?
Work with your colleagues: can you cooperate with a team to achieve a common goal? Can you explain your technical knowledge to non-specialists? Can you interpret and take into account factors outside of your specialism in reaching a decision?
Work with a client: can you understand the factors of importance to industry, not just the technical goals. Can you produce work of a high standard even under pressure and shifting deadlines (or goals)?
As a professional engineer, you'll need to do all of the above and so Engineering You're Hired! gives you the opportunity to put your skills into practice.
---
Engineering You're Hired gives students the experience of working alongside other engineers and the opportunity to develop effective communication and problem solving skills. Employers often comment that they are impressed to see our students display these attributes at interviews and in the workplace.

Claire Brooke

Year in Industry Manager | Faculty of Engineering
A world-class university – a unique student experience
Sheffield is a research university with a global reputation for excellence. We're a member of the Russell Group: one of the 24 leading UK universities for research and teaching.