News in brief, spring 2019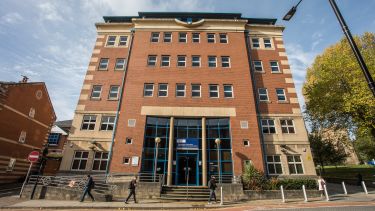 Minister invites CFOM to journalism safety conference
The UK's Foreign Secretary Jeremy Hunt has responded positively to suggestions from William Horsley of the Centre for Freedom of the Media (CFOM) on how to protect journalists.
After a piece by William appeared on The Conversation website, the minister tweeted to invite him to a Foreign Office conference on journalism safety taking place this summer.
CFOM is a research institute based in the Department of Journalism Studies and chaired by the department's head Professor Jackie Harrison. William Horsley is CFOM's international chair.
---
---
Sheffield journalists win again
Students and alumni from the Department of Journalism Studies have again featured prominently in the latest round of media industry prizes.
At the RTS Yorkshire Student Awards in late February, prizes went to Teri Limongi and Andrew Burdett. A week later at the IRN Awards, Rachael Venables won a Reporter of the Year prize while Rosanna Austin and Patrick Hildred took runner-up slots.
And in the NCTJ Diploma in Journalism prizes, Sophie Gillott received the JPIMedia media law court reporting award, while Ynez Wahab won the Society of Editors shorthand award, achieving 100 per cent accuracy at 100 words per minute – the best performance from more than 3,700 exam sittings.
The latest accolades follow a round of stunning successes for University of Sheffield journalists at the BJTC and Magazine Academy prizegivings and NCTJ Awards for Excellence last autumn.
---
New researchers arriving soon
Two new academic staff are set to join the Department of Journalism Studies, with a third to follow later in 2019.
On arriving in Sheffield in April, Dr Florencia García-Rapp will become Lecturer in Media Audiences and Users. Previously based at the University of Antwerp, she brings with her research interests in digital culture, online communities, media sociology, audiences and fans, research methodologies, digital ethnography and celebrity culture.
Dr Pawel Surowiec joins from Bournemouth University, where he has been researching soft power and public diplomacy, political campaigning and mediated nationalisms. He will become Senior Lecturer in Public Relations and Strategic Communication.
A further research vacancy will be advertised soon.
---
Boost for African radio project
A high-impact research project on African women's empowerment through radio will extend its reach after securing additional support.
Led by Dr Emma Heywood, the FemmepowermentAfrique initiative has been working in Niger with the Studio Kalangou radio station, whose community programming aims to address gender inequality and the social issues that arise from it.
The project began in partnership with Switzerland-based NGO Fondation Hirondelle and has recently been joined by IMS, an international organisation supporting local media to reduce conflict and strengthen democracy. As a result the project will now cover Mali and Burkina Faso as well as Niger.
Dr Maria Tomlinson works on the FemmepowermentAfrique project alongside Emma.
More about FemmepowermentAfrique
---
Conference will be first of its kind
PhD students at the Department of Journalism Studies are convening a conference specially for postgraduate and early career researchers (ECRs) – the first such event of its kind.
Organised by Gemma Horton and Jake Mason, the first Communication, Media and Journalism PGR/ECR Conference takes place on 10 April after a call for papers addressing the department's six key research themes.
The keynote will be Rebecca Moosavian, a researcher in media law and freedom of expression at the University of Leeds. In all, speakers will represent institutions from six countries across Europe and Asia.
Although the call for papers is now closed, registration for the conference is still open. PhD candidates and ECRs from across the fields of communication and journalism are encouraged to take part.
---
Mark Bradley quoted in Cairncross Review
A government report on the sustainability of journalism in the UK quotes Mark Bradley, the director of postgraduate study at the Department of Journalism Studies.
The Cairncross Review examines the challenges currently facing journalism and makes a series of recommendations to secure its future.
In a section looking at the idea of local news hubs, Mark is quoted as recommending the existing BBC Local Democracy Reporter Scheme be expanded to include court reporting.
The government has said it will respond to the recommendations of the report later in 2019.
---
Film screening appearance for Jackie Harrison
Professor Jackie Harrison has taken part in a Q&A alongside a screening of Under the Wire, a film telling the story of war correspondent Marie Colvin, who was killed in Syria in 2012.
The panel brought Jackie together with Paul Conroy, the photographer who accompanied Colvin as she reported for the Sunday Times on the plight of besieged civilians; and Chris Martin, the director of Under the Wire.
The event was hosted by the British Museum with United Nations Cinema (Ciné-ONU) for International Women's Day 2019. An audience of around 350 was in attendance.
Jackie is head of Journalism Studies, chair of the Centre for Freedom of the Media, and UNESCO Chair in Media Freedom, Journalism Safety and the Issue of Impunity.
A world top-100 university
We're a world top-100 university renowned for the excellence, impact and distinctiveness of our research-led learning and teaching.