British Sign Language - Languages for All
Find out more about studying British Sign Language with Languages for All. Browse our modules to find the right level for you.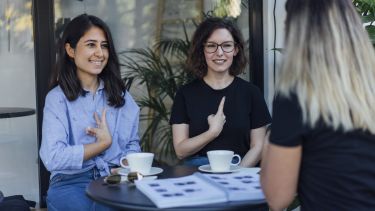 On
Sign Language is a visual means of communicating using gestures, facial expression, and body language. Sign Language is used mainly by people who are Deaf or have hearing impairments.
Within Britain, the most common form of Sign Language is called British Sign Language (BSL). BSL has its own grammatical structure and syntax. As a language, it is not dependent nor is it strongly related to spoken English. BSL is the preferred language of around 145,000 people within the UK (2011).
---
Our British Sign Language modules are open to all students (for credits or not), members of staff, and members of the public.
Available on a semester basis (11-12 weeks), the modules aim to develop language competence and cultural knowledge for professional and recreational purposes through small group weekly classes and guided independent learning.
---
If you are unsure about your level, let us know when applying and we will invite you for a short placement interview to understand your previous experience and current needs.
Beginner
---
Once you have decided on the appropriate level for you, apply using the following form. If the applications are not currently open, you will be directed to register your interest instead.
A global reputation
Sheffield is a research university with a global reputation for excellence. We're a member of the Russell Group: one of the 24 leading UK universities for research and teaching.