English (as a second language)
Find out about your options to study English (as a second language) at the University of Sheffield.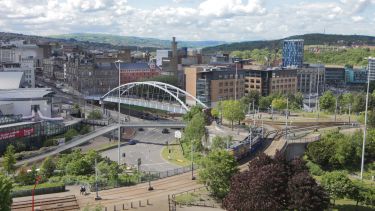 Off
The English Language Teaching Centre (ELTC) offers a wide range of English language courses and services for University students and departments, as well as the public.
---
Full-time courses
University English
University English is our full-time year-round General English course with flexible start and end dates which can help to improve your English skills for personal or professional use.
Pre-sessional English
Throughout the year we offer our academically focused Pre-sessional English course designed to help you reach an appropriate level of proficiency in English for University study.
Business English
Our specialist Business & Professional English programmes are designed for business people and provide the essential skills and language you need to be successful in your workplace.
Special courses
We are able to offer special courses designed to meet the particular requirements of groups of students or individuals throughout the year.
---
Part-time courses
Cambridge Exam Preparation
This 12 week course is designed to help you prepare for a Cambridge English examination at Cambridge First (B2) or Cambridge Advanced (C1) level.
IELTS Exam Preparation
This 12 week course is for anyone preparing to take the Internationally recognised IELTS exam.
Part-time General English
A 12 week course offered twice a year to help improve your English for personal & professional reasons.
Booster Classes
Enhance your specific English skills in just 90 minutes per week with our part-time booster courses.
---
Doctoral Development Programme (DDP)
The English Language Teaching Centre offers four modules for the Graduate School Doctoral Development Programme. These modules cover the principles and practice of thesis writing and the speaking skills researchers need. The modules are restricted to only researchers through the Graduate School, so are not open to undergraduates and taught postgraduates.
---
Credit modules
The English Language Teaching Centre (ELTC) is able to offer a range of credit-bearing modules to certain groups of University of Sheffield students.
A global reputation
Sheffield is a research university with a global reputation for excellence. We're a member of the Russell Group: one of the 24 leading UK universities for research and teaching.