English Language Support
Our centre offers a wide range of English language support & development services to students and staff at the University of Sheffield. Find out more below:
Free classes and workshops
English Language Support (ELS) Classes
Free weekly part-time classes running throughout the Autumn and Spring semesters designed to develop your academic literacy, English language and communication skills.
Departmental Language Programme (DLP)
Free, subject-specific classes designed to develop your academic English, communication and academic literacy skills, taught in collaboration with your academic department.
Short and varied one off workshops and events designed to provide support with English language and academic study skills for University of Sheffield students.
Free part-time English language classes for the partners of degree level students at the University of Sheffield.
Academic Literacy Resources
Meeting the expectations of your department is an essential component of academic writing at University. These interactive online resources are designed to improve the skills and language required to succeed within your academic department.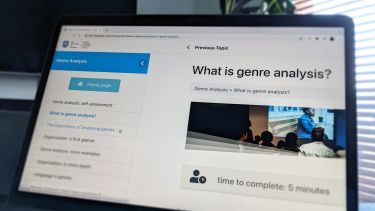 An example from our range of online academic literacy resources.
Language Support Video
English Language Support at the ELTC
Learn more about the range of free English Language Support services offered to current degree level students by the University's English Language Teaching Centre in this short video.