Our TEFL Taster is a chance to give 'Teaching English as a Foreign Language' a go. You will look at teaching resources, planning a simple lesson, some basic language awareness tasks and try out some activities.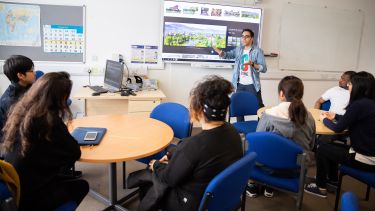 Are you graduating this year, but unsure what to do next?
Are you considering a career change? 
Have you always wanted to teach abroad? 
If your answer to any of these questions is YES then you may be interested in our upcoming TEFL Taster session on: 
Wednesday January 25 2023 - 2pm to 4pm (In-person)
This is a chance to find out more about Teaching English as a Foreign Language (TEFL). 
During a practical and informative workshop, you will look at teaching resources, learn more about basic language awareness, and try out some activities. You'll also learn what to look for in a TEFL course and job, and what opportunities are available in English Language Teaching. 
This is a useful introduction if you're thinking of travelling, teaching or doing a full TEFL course. 
The TEFL Taster is a very popular event at the University of Sheffield, so it is advisable to get your ticket well in advance as there are limited spaces. 
Location of events: 
In-person TEFL Tasters take place in the main English Language Teaching Centre building at 78 Hoyle Street (directions)
Online TEFL Tasters take place over the internet using using Zoom. You will be sent the link before the session.
Tickets for University of Sheffield students and staff are £5.00, and tickets for external participants are £10.00. They can be purchased through the university online store at the link below. 
TEFL Taster - TicketsIf you have any questions about this event, please contact us at tefl@sheffield.ac.uk
A world top-100 university
We're a world top-100 university renowned for the excellence, impact and distinctiveness of our research-led learning and teaching.