Occupational English Test - OET
Prove you have the right level of English to study and work in the healthcare sector.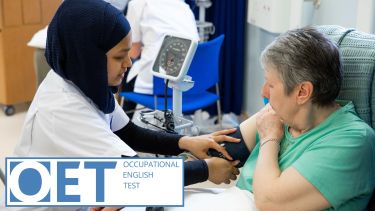 Off
OET is the world's only international English language test specifically for healthcare professionals and can be taken at our centre. The test provides a valid and reliable assessment of all four language skills – listening, reading, writing and speaking – with an emphasis on communication in healthcare professional settings.
---
Who uses OET as proof of English proficiency?
OET is used as proof of English proficiency by:

• Healthcare regulators in the UK, Ireland, Australia, New Zealand, Namibia, Dubai, Malta, Singapore and Ukraine
• The Australian Department of Home Affairs and Immigration New Zealand
• Leading health educators
• Royal colleges in the UK
In the UK, doctors, nurses and dentists who have sat OET to meet the English language requirement of their healthcare regulator do not need to take any other English test when applying for Tier 2 (General) visas.
For an up to date list of organisations that accept OET, please visit the OET website.
---
Preparing to take OET
OET's Preparation Information webpage contains a wide range of preparation materials to help you study for the test, including many hours' worth of free practice resources.
OET also provide preparation tips, guides and inspiration on their social media channels:
---
Upcoming OET Dates and Booking Information
We offer regular OET test dates at our centre. You can take OET at the ELTC on the following dates:
Saturday 30 September
Saturday 14 October
Saturday 11 November
Saturday 2 December
To book your test, please visit our booking webpage:
---
Test Day Information
Where is the test venue?
OET at the English Language Teaching Centre is held in our main building at 78 Hoyle Street. Directions and public transport information can be found below:
Test day format
The three written tests will take approximately 3 hours. In addition, a speaking test is also scheduled on the same day. For more detail on the test day format, go to: https://oet.com/test/test-overview
Arrival time
You need to arrive between 7:30am and 8:30am on the test day.
When you arrive, you will need to:
Sign the candidate register
Show the valid ID document you used when you applied for OET
Get your digital photograph taken
Rules and regulations
For test rules and regulations, including information about what you need to bring with you, what you can, and cannot, bring into the test room, download OET Test Regulations, including the withdrawal and deferral policy at: https://oet.com/test-regulations
---
Contact Details
If you have any further questions which aren't answered by this webpage, you can contact our Exams Team through the following methods:
Email - eltc.oet@sheffield.ac.uk
Phone - 0114 215 7473