Cambridge English Qualifications
The University of Sheffield English Language Teaching Centre (ELTC) is an authorised exam centre for Cambridge English Qualifications. Cambridge Assessment English is a department of the University of Cambridge and part of the Cambridge Assessment group set up in 1858.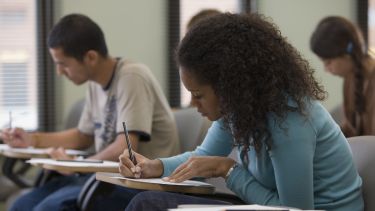 According to their website, 'Cambridge Assessment English offers the world's leading range of certificates for learners and teachers of English - taken by over three million people in 130 countries.'
These qualifications are recognised by a huge variety of professional, educational and governmental organisations, including the University of Sheffield. 
You can apply to just take the exam in Sheffield at the ELTC or choose one of our preparation classes followed by the exam.
A preparation class may give you a better chance of success in the exam, in particular, if you have never taken one before or know little about the skills involved.
If you just want to take the Cambridge exam without following a preparation class, please carry on reading.
Part-time preparation classes are also available.
---
Currently we can offer the following Cambridge English Qualifications below. To find out more about each exam, please click on the link to be taken the Cambridge Assessment English website.
Teacher training exams
The ELTC also offers teacher training courses leading to TKT, CELTA and Delta certification. Please look at our teacher training webpages or contact us for more details
---
Cambridge English Qualifications
B2 First: Exam Date - Saturday December 10 2022

Registration Deadline - November 26 2022

C1 Advanced: Exam Date - Saturday December 10 2022

Registration Deadline - November 26 2022

C2 Proficiency: Exam Date - Thursday December 1 2022

​​​​​​​​​​​​​​Registration Deadline - November 17 2022
Please note: All four papers, 'Reading and Use of English', 'Writing', 'Listening' and 'Speaking', will take place on the Exam Date for each qualification listed above.
Teacher training tests
DELTA Module 1: Next Date - Wednesday December 7 2022

​​​​​​​Registration Deadline - November 8 2022

Teaching Knowledge Test (TKT): Next Date - Friday December 16 2022

​​​​​​​​​​​​​​Registration Deadline - November 11 2022
---
The cost of each exam is as follows:
A2 Key - £103
B1 Preliminary - £105
B2 First - £150
C1 Advanced - £155
C2 Proficiency - £165
DELTA Module 1 - See application form
Teaching Knowledge Test (TKT) modules 1-3 - See application form
All exam fees must be paid before you are officially entered with Cambridge Assessment English.
Applications made after the entries deadline will be charged an additional late entry fee of £25.
---
Applications can be made online.
Application formYou will be contacted soon after with further information about paying for the exam and confirming your identity.
To secure your place you must complete all stages of registration by the deadline above.
A world-class university – a unique student experience
Sheffield is a research university with a global reputation for excellence. We're a member of the Russell Group: one of the 24 leading UK universities for research and teaching.