DELTA (Diploma in teaching English to speakers of other languages)
DELTA is one of the best-known and most popular advanced TEFL/TESOL qualifications in the world. It is a flexible way for experienced English language teachers to progress further in their careers.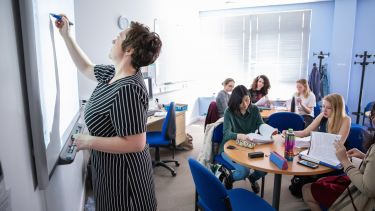 On
We offer fully online, part-time DELTA Module 1 and Module 3 preparation courses at the English Language Teaching Centre, and also offer a Local Tutor service in partnership with NILE for Module 2.
For further information about our upcoming courses, please click on the relevant links below.
DELTA Module 1 - Understanding language, methodology and resources for teaching (20 credits)
DELTA Module 2 - Developing professional practice (20 credits)
DELTA Module 3 - Extending practice and English language teaching specialism (20 credits)
By following these links, you can access some sample materials and tasks from our Module 1 and 3 courses.
---
Excellent - very focused and energetic. The sessions focusing on preparing for the exam were particularly helpful. I found this really helped me to visualise the requirements of the question.

Sarah Walsh

ESOL tutor, Ireland
---
Nick is a co-author of ETpedia Teacher Training.
---
I thought Nick and Beth did a great job handling the course between them and have been very helpful throughout the course.

Georgina Blewett

General English Teacher, UK
---
---
I think I have learnt a lot and I can definitely see a difference in my teaching compared to last year.

Luz Gonzalez

General English Teacher, Mexico
---
For more information about the Delta Modules, please visit Cambridge Assessment English's website.  
The full syllabus can be downloaded below:
DELTA Qualification Syllabus (pdf, 234kb)
---
The tasks were wholly relevant and interesting. They also made us aware that we would need to devote a good few hours each week to self-study in order to be ready for the exam, as well as to develop professionally, of course.

Robert Jackson

EAP Teacher, Spain
A world-class university – a unique student experience
Sheffield is a research university with a global reputation for excellence. We're a member of the Russell Group: one of the 24 leading UK universities for research and teaching.