DELTA (Diploma in teaching English to speakers of other languages)
Delta is one of the best-known and most popular advanced TEFL/TESOL qualifications in the world. It is a flexible way for experienced English language teachers to progress further in their careers.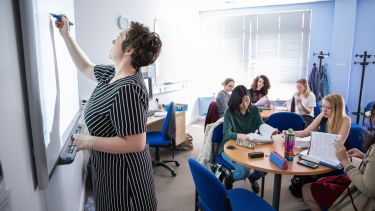 Delta can be taken at any stage in a teacher's career and is ideal for those wanting to update their teaching knowledge and improve their practice. 
You may be a graduate, or already hold an initial teaching qualification, and are considering furthering your career in English Language Teaching.
Delta modules are ideal if you wish to extend your professional experience and accept new responsibilities as they not only demonstrate a commitment to the profession, but also proof of your ability.
---
We run all three Delta Modules on a part-time basis. You may take the module one and three courses together or take a single module.
All courses require a high level of literacy and language as well IT skills: an initial TEFL / TESOL qualification and an undergraduate degree (or equivalent) is also a requirement. All applicants for module 2 will require an interview.
Module 1 - Understanding language, methodology and resources for teaching (20 credits)

This module focuses on the background to teaching and learning English in a range of contexts.   Module One is assessed by a written examination which includes two 90-minute written papers with a 30-minute break between each paper. The examination is externally set and marked. 

The ELTC will suggest reading and revision sources, exam strategies and techniques in dedicated sessions and provide a mock exam.  Many of the input sessions will provide the key background and underpinning knowledge that will be tested in the exam.

Dates

The ELTC's preparation course will run from October 19 2020 to 28 May 2021 in preparation for June 2021 completion. The Delta Module One exam will be held at the ELTC on Wednesday 2 June.

Cost: £975

Module 2 - Developing professional practice (20 credits)

This module tests knowledge of the elements of planning and preparing a lesson or a sequence of lessons and how to select and use resources and materials.

Module Two requires a portfolio of coursework, including internally assessed observed lessons, background written essays and an externally assessed lesson observation.

You will use your current teaching context for the completion of the portfolio and the observations will be spread out over the course. A significant amount of scheduled, time-sensitive, independent work will be needed to complete the portfolio.

Dates

The ELTC is proud to be working in partnership with NILE for Module Two. NILE will provide the online content and online tutor and the ELTC will provide the local tutor.

The course will run from 21 September 2020 to 28 May 2021 with coursework being submitted to Cambridge in June 2021.

See the NILE website for further details of the course content and structure. Please note you must have access to real learners for your teaching practice within 50 miles of Sheffield.

Cost: 5% promotional discount on the NILE course fee. There is no extra charge for the local tutor service.

Module 3 - Extending practice and English language teaching specialism (20 credits)

This module focuses on needs analysis, syllabus design, course planning and assessment in the context of a selected specialism.  It is assessed by an extended written assignment, which is externally moderated by Cambridge. The assignment is focused on a specialist area of teaching and learning chosen by the candidate and will be backed up with tutor support and, depending on the chosen/negotiated specialism, advice on the specialist area.

Dates

The ELTC's course will run from 23 November 2020 to 28 May 2021 with online content and concurrent tutor support in preparation for June 2021 entry. Please note, you must have access to real learners in order to carry out needs analysis and diagnostic testing during this course.

Cost: £495
In order to be able to complete all 3 modules, you would need to dedicate around  10-14 hours a week for individual tutorials, assessments, preparation for sessions, directed reading and independent study.
You will be given a detailed course and study plan, access to an on-line learning platform, library and journal resources and be given a dedicated tutor. 
---
The requirements for entry are normally the following as a minimum, although applications are assessed on an individual basis.  The requirements are assessed throughout the application process - please see NILE for specific module 2 requirements.
Aged 21 or over.
At least 2 years of varied English language teaching experience (full-time or equiv).
At least an initial English language teaching qualification (CELTA, Cert. TESOL or equiv.)
An undergraduate degree or equiv.
An excellent command of the English language (good native or 8.0 in IELTS or equiv.)
Good digital and academic literacies
Access to appropriate EFL/ESOL/EAP classes for teaching practice (M2) and needs analysis (M3)
Ability to cope with a level 7 (Master's) qualification and dedicate a significant amount of time outside the taught sessions.
Successful completion of the application process, including pre-interview and at-interview tasks
---
Module 1: £975
Module 2: 5% promotional discount on the NILE course fee. There is no extra charge for the local tutor service.
Module 3: £495
These include all tuition, internal assessments, tutor support, mock exams, class materials, library access and e-learning materials.
A deposit is due to secure your place on the ELTC course. This must be paid at least 4 weeks before the start of the course. The remainder of course fees can be paid in two further instalments, to be agreed with the course administrator.
Cambridge English Language Assessment exam fees are included in the course fees for modules 1 and 3, and you need to check with NILE for module 2. External candidates will be charged an additional admin fee to be entered at the ELTC - please contact us to find out more.
If being funded by an external body, a letter of intention for payment of fees is enough to cover the deposit, but full payment should be made as soon as possible.  Individual requests for alternative payment schedules may be made and will be judged by the Centre accordingly.
If for any reason you are unable to arrange your own teaching practice group for the assessed lessons, the ELTC may be able to arrange a volunteer group. This would be subject to prior agreement during the application stages and incur a supplement to cover administration, room and resource costs. 
There is a limit to how many candidates on the course can access these volunteer groups and you will be told on application if this is still possible. 
These groups would have to be taught regularly for around 20 hours over the course, before, and possibly after, the 5 required lesson observations. This would take place on a day from Tuesday to Thursday at times to be negotiated, but an hour between 4-7pm most likely, when the Centre has rooms to spare.
However, the Delta modules are best suited to those that can provide a current, regular teaching context so as to minimise the artificialness of the assessed lessons and help with reflection on current practice.
---
To apply fill in our module forms below:
Any initial queries and completed Module 2 application forms can be sent to our TEFL Admin Team at tefl@sheffield.ac.uk
A world-class university – a unique student experience
Sheffield is a research university with a global reputation for excellence. We're a member of the Russell Group: one of the 24 leading UK universities for research and teaching.