Developing Professional Practice (20 credits)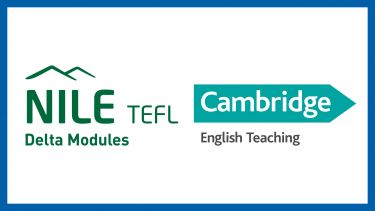 DELTA Module 2 focuses on planning, delivering and evaluating lessons in relation to learner needs and the learning context. It is assessed via a portfolio of coursework, including internally assessed observed lessons, background written essays and an externally assessed lesson observation.
You will use your current teaching context for the completion of the portfolio and the observations will be spread out over the course. A significant amount of scheduled, time-sensitive, independent work will be needed to complete the portfolio.
According to Cambridge Assessment English, this Module aims to develop your ability in the following areas:
Working with language learners in a variety of learning contexts

Preparation for teaching learners of English

Evaluation, selection and use of resources and materials for teaching purposes

Managing and supporting learning

Evaluation of lesson preparation and teaching

Observation and evaluation of other teachers' lessons

Professionalism and professional development
The ELTC is proud to be working in partnership with NILE - one of the world's biggest providers of training and development for English language teachers - for Module 2. NILE provides the online content and online tutor and the ELTC provides the local tutor.
Please note you must have access to real learners for your teaching practice within 50 miles of Sheffield.
For further details about the course content and structure please visit the NILE website:
---
The next course will run over 36 weeks from 20 September 2021 to 27 May 2022, with coursework being submitted to Cambridge in June 2022.
The programme is designed by you and your personal tutors. However, please note that the course is intensive and requires full commitment.  
Tuition fee
The NILE course fee is £1940, plus £186 courier and Cambridge Assessment fee. We are able to offer a 5% promotional discount on the NILE course fee. There is no extra charge for the local tutor service.
Our application form for Module 2 can be downloaded below:
Application form - DELTA Module 2Please submit your completed Module 2 application form to our TEFL Admin Team at tefl@sheffield.ac.uk
A world top-100 university
We're a world top-100 university renowned for the excellence, impact and distinctiveness of our research-led learning and teaching.