We're one of the largest University-based language schools in the UK, supporting over 3,000 students a year on a range of programmes. Find out more about working at the ELTC, details of any current job vacancies, and information about our work experience programme.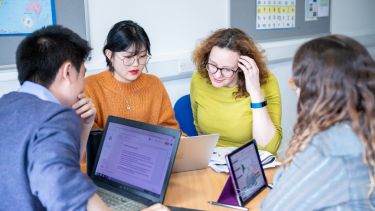 Current vacancies
Clerical Assistant (full-time)
Job Reference Number: UOS029416
Salary: £19,612 to £21,814 per annum 
Closing Date: 6th August 2021
We are currently recruiting for an enthusiastic Clerical Assistant to undertake the key role of supporting day-to-day administrative activity within the English Language Teaching Centre.
We welcome applications from candidates with excellent administrative, communication, interpersonal and IT skills and experience. Successful candidates will provide a professional support service for the department's students during the application process, and provide course support to programme directors. They will also be responsible for maintaining internal and University-wide systems, liaising with academic and professional services colleagues and acting as a point of contact for students and staff.
For more information about the job and role requirements, please view the link below:
---
Dyslexia & SpLD Support Tutor (part-time / term-time)
Job Reference Number: UOS029339
Salary: £31,866- £40,322 per annum (pro-rata)
Closing Date: 8th August 2021
Would you like to join a small, friendly team who prepare and deliver one-to-one tutorials and small group teaching for students with Dyslexia and Specific Learning Disabilities (SpLD) at one of the country's top Universities?
We are currently recruiting for a term-time Dyslexia & SpLD Support Tutor (39 weeks per year, 4 days per week, working pattern to be agreed). You will have a first degree (or equivalent experience), a qualification in teaching in Dyslexia/SpLD recognised by the British Dyslexia Association, and experience of providing Dyslexia/SpLD teaching, preferably in a HE context. You will also have experience in administering SpLD assessments with post-16 age-group.
For more information about the job and role requirements, please view the link below:
---
To apply for any vacancies please click the link below and search for the appropriate reference number.
In our most recent staff survey (2018) 92% of our staff said they were proud to work at the University of Sheffield and 86% would recommend the University as an excellent place to work.
The University of Sheffield was ranked as a Top 100 employer in The Sunday Times Best Not-For-Profit Organisations To Work For between 2016 and 2018 and the University has been named as a top employer for workplace equality for the sixth year in a row by the leading LGBT charity Stonewall, reaching its highest ever ranking of 23rd in 2019.
More information about working at The University of Sheffield
Work experience placements are not currently available due to the Covid-19 outbreak. We will update this webpage with further details once we're able to begin offering work experience again.
The University of Sheffield takes its public and social responsibility seriously. We are committed to making the world a better place.
This approach is embedded in everything we do, from partnerships with local and global organisations to our research and teaching. As a University department, the ELTC shares this commitment.
One way it does so is by providing young people in the Sheffield region with learning opportunities, and practical experience, which aim to equip them for their future working life.
Staff at the ELTC undertake a range of roles which are reflected in the work experience placements we offer. 
Our placements are designed to be informative and motivating, providing hands-on experience and active engagement.
We can only arrange internships to current students and recent graduates of The University of Sheffield through the University's internship programme.
We are unable to accommodate any internship requests from external organisations or individuals not currently studying at The University of Sheffield. For more information please visit Career Connect.
A world top-100 university
We're a world top-100 university renowned for the excellence, impact and distinctiveness of our research-led learning and teaching.