A practical course for new teacher trainers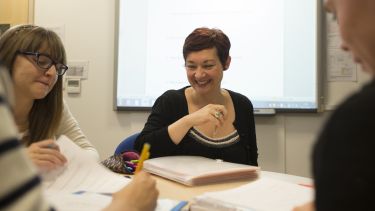 Moving from teacher to trainer is not an easy step for even experienced teachers to make. Our fully online programme covers many common aspects of a trainer's role from planning and delivering workshops to observing lessons and giving feedback to mentoring less experienced colleagues.
The course has been designed to help new or inexperienced teacher trainers feel more confident as they make the transition from teacher to trainer. 
Please Note: This course has been designed for TEFL/TESOL teachers. If you are not involved in English language teaching, you may find that the course is not particularly relevant or useful in your context. Please contact us if you have any questions about this - see contact details at the bottom of this page.
---
This course is aimed at new teacher trainers who have little experience and who see themselves as at the 'From Teacher to Trainer' stage on the Cambridge English Trainer Framework. 
However, you don't have to be working in a formal training context. You may be a DoS or centre manager who is responsible for organising teacher development at your school. You may be a line manager or senior teacher who has to carry out observations of experienced teachers in your centre. You may be a conference presenter or someone who delivers in-house teacher development sessions to practising teachers. You may be involved in mentoring or coaching. Or you may be a newly qualified CELTA trainer embarking on your first courses. This course is essentially for anyone who works with teachers and there really is something for everyone.  
Likewise, the course is not restricted to any one training context and the content has been designed to be used in a variety of learning and teaching situations. Each unit involves reflection tasks in which you are encouraged to consider how the input is applicable to you and the context you work in.
---
Our course units cover the following topics:
Roles and skills of a teacher trainer.
Beginning teacher training courses.
Designing and delivering training sessions. 
Teacher training materials and resources.
Approaches to lesson observation.
Managing feedback: written and spoken.
Reflective practice. 
Supporting teachers. 
CPD for teacher trainers. 
The course is practical in nature and there will also be the opportunity to share ideas, resources and good practice. 
By the end of the complete 8-week course, participants will be better able to:
Identify the various roles and key competencies of teacher trainers working in different contexts.
Develop and implement a teacher training programme.
Plan and deliver a teacher training session taking different approaches, building in variety and interest.
Manage the process of classroom observation, including providing pre-lesson support with planning.
Provide effective written and oral feedback on teaching and manage the post-lesson discussion sensitively.
Work supportively with teachers and manage difficult training situations.
Reflect on your practice and continue your professional development.
---
The next course will run from October 24 to December 17 2022. Units will be released on a weekly basis according to the timetable below:
October 24 - Unit 1: Why become a teacher trainer?
October 31 - Unit 2: Initial considerations
November 7 - Unit 3: Input sessions
November 14 - Unit 4: Lesson planning
November 21 - Unit 5: Observing teachers
November 28 - Unit 6: Feedback
December 5 - Unit 7: Training in different contexts
December 12 - Unit 8: The end is not the end...
A short orientation unit, which will introduce you to the course and the online platform, will be released on October 21. 
The course is designed to be deliberately flexible so you can work through it at your own pace and at times during the week when you are free.  
We estimate that you will need to spend around 4-5 hours per unit engaging with the content and your fellow participants to get the most out of the course. 
A certificate of completion will be awarded to all participants who successfully complete the course or individual units with it. 
A further course will run in 2023. Unit dates and further information will be available on this webpage soon.
---
The complete course costs £350.
---
---
---
Who is the course suitable for?

This course is essentially for anyone who works with teachers: this includes, but is not limited to, teacher trainers, educators, DoSs in language schools, mentors or conference speakers. The course is also not restricted to one particular training context and the content of the course has been designed to be used in a variety of contexts and situations. Each unit involves reflection tasks in which we ask you to consider how the input is applicable to you and the context you work in.

How is the course organised?

We have organised the course into eight distinct units with each one dealing with a different aspect of teacher training and released on a weekly basis. Before you start Unit 1, we ask you to complete the Orientation Unit first as this will give you an overview of the course and how to use our platform, Training Foundry.

How much does the course cost?

The complete course costs £350.

How long is the course?

The full course lasts for 8 weeks. If you decide to take individual units, then each unit takes a week. 

Dates for each unit can be viewed in the 'Course dates and study hours' section above. 

How is the course delivered?

The course is delivered purely online and is made up of eight content units, which will be released on a week-by-week basis throughout the period of the course. Each unit consists of a number of topics exploring aspects of working with teachers. Each unit contains both asynchronous and peer work content. The asynchronous tasks include guided self-study tasks, forum tasks, research, quizzes and reflection; while the peer tasks involve working with other participants to, for example, mark lesson plans, observe and offer feedback on lessons and plan input sessions.

Your tutors will offer feedback on your forum posts and group work tasks. You may find that to complete some of the group tasks, that you will need to be online at the same time as other members of the group - this is optional though, as we provide ways of contacting and working with other participants which do not require you to be online at the same time.

How many hours a week will I need to study?

The course units have been designed to make up approximately 4-5 hours worth of work, including working through the online content, completing the interactive tasks and contributing to the discussion forums. You may find that some units may take slightly longer than this though.

Do I have to complete the units every week?

Although all the units are standalone, and it is not necessary to complete one before moving on to the next one, we strongly recommend that you complete the units on the week they are set. This is to ensure participants complete the group tasks at a similar pace and to ensure you receive timely feedback on your work.

Do I get a certificate at the end of the course?

Yes, we provide certificates for completing the whole course or per unit if you choose to take a select number of units. Gaining a certificate is dependent on completing all the tasks in the course or unit. Please note that this course does not provide any kind of credit.

Why should I study with you?

Your tutors are experienced teacher trainers who have worked in a range of different contexts and settings. They are also the authors of ETpedia Teacher Training, a resource book for both experienced and new teacher trainers.  You can read reviews of their book here and here.
---
The tutors really listened to my needs and knew exactly how to help...I feel really equipped to go back to my own setting and put all the ideas and information into practice.

Danyah Alroy

Centre Manager, Saudi Arabia
---
A world top-100 university
We're a world top-100 university renowned for the excellence, impact and distinctiveness of our research-led learning and teaching.