Instructional Design for Language Teachers
Our Instructional Design for Language Teachers course can help experienced teachers design flipped and asynchronous materials.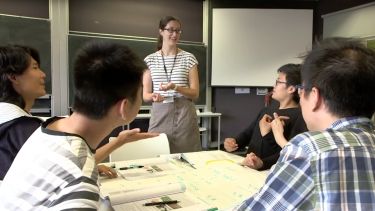 Our Instructional Design for Language Teachers course is designed for anyone teaching at a language school who needs to develop online materials for courses.
You could be a teacher or a member of clerical or technical staff with special responsibilities for creating interactive content to add to a virtual learning environment. This could be to complement face to face teaching, or an online course. 
This is a fully online course which you can take at your own pace. 
---
Our next fully online Instructional Design for Language Teachers course will run from October 9 2023 to December 15 2023.
On average, you will need to spend 5-6 hours a week engaging with the course materials and your fellow participants to get the most out of the course. 
Tuition fee 
The course fee is £375. This includes all learning materials, tutor support and 1 hour of live tuition via Zoom each week.  
To apply for the course please complete the application form:
Instructional Design for Language Teachers Application Form
We will contact you with further instructions on how to enrol for the course within 10 working days of receiving your application.
---
What level of technical knowledge is required?

This course is designed for people with a reasonable comfort level with technology. To be able to participate in the course we recommend you should be comfortable: 

using presentation tools such as Powerpoint, Keynote or Google Slides
managing/adding documents and files to a virtual learning environment such as Blackboard, Moodle or Google Classroom
using web-based tools such as Padlet, Quizlet or similar

How long is the course?

The course is 10 weeks long and the course modules are released on a Monday at 10.00 (UK time)

How many hours will I have to study each week?

We estimate around 5-6 hours a week. This is a reasonably intensive course that does require time to work through the content and get comfortable with the various technology tools used to create content. 

Do I need to be online at a specific time?

Yes. Once a week for one hour you will need to be available for a Zoom session. At the start of the course you will be surveyed to find out what times you are available during the week and we'll offer several slots during the week for you to choose from. 

What do I need to do to complete the course?

You need to complete all the units and contribute reasonably to the course forums. At the end of the course there is a final individual assignment for you to complete. If you do all these things, you will finish the course successfully and qualify for a certificate. There is no assessment/pass mark as such as we view this as a formative and developmental course.

Will I receive a certificate at the end of the course?

Yes, you will receive a certificate from The University of Sheffield English Language Teaching Centre. There are however no credits attached to the course - it's purely developmental.

Please note though that to receive the certificate, you need to complete all the final assignment and contribute regularly to the course forums.

Will I have access to the course after it has finished?

In some form, yes. You will be given permanent access to a self-study version of the course containing most of the content and you will be able to access the course forum via a special group set up. 
A world top-100 university
We're a world top-100 university renowned for the excellence, impact and distinctiveness of our research-led learning and teaching.