International English Language Testing System (IELTS)
IELTS assesses all of your English skills — reading, writing, listening and speaking, and is designed to reflect how you will use English at study, at work, and at play, in your new life abroad.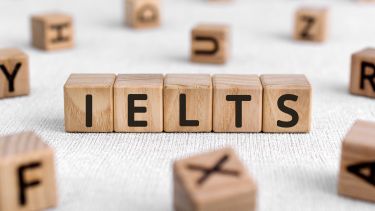 Covid-19 Update

IELTS testing at the ELTC will continue during the South Yorkshire Tier 3 coronavirus restrictions. Please be aware of the following:

You should only use public transport to travel to your exam if you have to and you must wear a face covering if you do. You will not be admitted to the ELTC if you have coronavirus symptoms, including a temperature above 37.5.
A full refund or transfer to another test date is available to all candidates who are affected by the above rules and restrictions.
You must wear a face covering and respect social distancing at all times during your visit.

A full refund or transfer to another test date is available to all candidates who are affected by the above rules and restrictions.
The listening and speaking sections of IELTS are the same for all test takers.
The reading and writing sections are different depending on whether you choose the academic or general training modules.
The Academic module is suitable for university entrance at undergraduate and postgraduate level and for professional registration.
The General Training module is suitable for the purposes of immigration to an English-speaking country and for people wishing to train or study below degree level.
IELTS is available in 140 countries, and last year over 2.9 million tests were taken. It is recognised by over 10,000 organisations worldwide, including employers, universities, professional bodies and immigration authorities.
IELTS is jointly owned by the British Council, IDP: IELTS Australia and Cambridge English Language Assessment.
For further information on the IELTS exam, please follow the links below:
---
The ELTC regularly runs courses to help students prepare for the IELTS exam.
To find out more about our upcoming courses, please visit our part-time courses page.
There are also some very useful materials online to help you find out more about the IELTS test and practice before you take your exam:
---
Academic and general training module
Please note that the Speaking section will take place on the same date as the other three sections unless otherwise stated.
---
Step one
The ELTC only accepts online registration for our IELTS exams.
Register for IELTS onlinePlease note:
Registration for each test date closes 5 days before the test for paper based exams and 3 days before the test for computer delivered exams. You will not be able to register after that point.
Completion of online registration does not guarantee you an IELTS test place. You must also send us the required documents and pay exam fees.
Step two
After you complete the online registration, you should send us a photocopy of your ID document.
This must be the same document you used during online registration.  
You will need to bring the same document to all your IELTS exams.  
It must be a passport or European ID card. You must send a clear photocopy and you must write on the back of your photocopy the date of the IELTS test you registered for.
The name on this ID document must be exactly the same as the name you entered during online registration.
Your ID document should be sent to:
The IELTS Administrator
English Language Teaching Centre
The University of Sheffield
78 Hoyle St.
Sheffield
S3 7LG
The UK
Step three
Test fees for IELTS sittings at the ELTC are £172 for exams in 2020 and £176 in 2021.
The ELTC requires all IELTS test-takers to pay their fees by credit or debit card through our secure online payment system. We aren't able to accept any other payment methods for IELTS bookings at our centre.
At the end of your online registration (see Step one above) you will see a link to our online payment site.
All fees should be paid no later than five days after you register and no later than 5 days before your IELTS test (or 3 days before for computer delivered exams). 
If you have any problems with payment of fees, please contact us at eltc.IELTS@sheffield.ac.uk.
---
Can I cancel my IELTS test or change to a new date?

If you would like to cancel your IELTS test, you should inform us by email at eltc.IELTS@sheffield.ac.uk at least 35 days before your test. We will then refund your test fee minus £25 for admin charges. If you cancel less than 35 days before your test, your fee will not be refunded.

To transfer to a different IELTS test date contact eltc.IELTS@sheffield.ac.uk at least 35 days before your test.

We will then send you a transfer request form to complete and charge a £25 fee for admin.

I have to send my passport to the Home Office for visa renewal. Can I still take the IELTS test?

You cannot register or take the test without a valid ID (passport, UK residence permit or EU Identity card). You must send us a copy of your ID to register and bring the same original ID on test day. You will not be allowed to take the test without an original ID, and will not receive a refund. If you have any questions, please contact eltc.IELTS@sheffield.ac.uk

Results

Your IELTS test results will usually be available 13 days after the test. On that day, they will be posted to you. It is not currently possible to collect any IELTS test results in person.

IELTS test results for the computer delivered version of the exam will be available 3-5 days after taking the exam.

What can I do if I think there is a mistake with my results?

Test-takers can have one or all of their IELTS papers re-marked if they are not happy with the results they received.  The process is called an Enquiry on Results (EOR) and costs and £90. If you have taken an IELTS test at the ELTC and you would like an Enquiry on Results, you must contact eltc.ielts@sheffield.ac.uk no later than 6 weeks from the date of your test.

Contact us

If you would like to ask us a question about our IELTS tests here at the ELTC, please email eltc.IELTS@sheffield.ac.uk or phone at +44 114 222 4931. Our office hours are Monday to Friday 9am-4pm.
A world-class university – a unique student experience
Sheffield is a research university with a global reputation for excellence. We're a member of the Russell Group: one of the 24 leading UK universities for research and teaching.