The Certificate in Teaching English to Speakers of Other Languages (CELTA) is an initial qualification for people with little or no previous English teaching experience and is awarded by Cambridge Assessment English, part the University of Cambridge.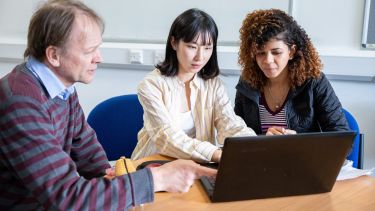 You may be considering a career in English Language Teaching and view CELTA as an entry into a good teaching position in another country, or you may want a qualification that provides a sound basis in the fundamentals of language teaching practice and gives you confidence in the classroom.
Why choose CELTA

The Cambridge CELTA (Certificate in Teaching English to Speakers of Other Languages) is the essential TEFL qualification that's trusted around the world.

It's a practical English Language Teaching qualification It gives you hands-on teaching practice in the classroom

71.5% of English Language Teaching employers in Europe, the Middle East and Africa requested CELTA based on research from November 2017 to January 2018.

It gives you the confidence and skills to teach adult learners
It gives you expert training and feedback on your teaching
It's accredited by the internationally recognised Cambridge University
It is run by experienced and highly-qualified tutors
It has a 95% pass rate globally
It is recognised and accepted all over the world
It offers great career opportunities worldwide

Why choose the ELTC

A trainee-tutor ratio of 5 to 1 (normally 6 to 1) with experienced and trained teacher trainers.
Over 140 hours of guided learning hours (input and teaching practice). 6 hours of assessed teaching practice (over 8 or 9 lessons) at 2 different levels of classes of multilingual adults we arrange for you.
6 hours of observation of experienced teachers (live and video). Up to 18 hours of observation of fellow trainees. Over 80 hours of input sessions, tutor feedback and tutorials on teaching methodology, classroom techniques, lesson planning and teaching practice, language awareness and specialisms.
No exams - 4 practical assignments over the course, marked by your tutor and with resubmission possible.
Free Access to teaching resources, stationery, printing and photocopying.
University of Sheffield student status - access to libraries, online services and student card (UCard)
Online courses are delivered by a qualified online tutor from the ELTC using Cambridge materials and 'live' support via chatroom and email.
ELTC course fee includes the University of Cambridge entry cost, pre-course tasks and an optional online grammar course.
Job hunting and professional development advice with a report at the end of the course and a reference service.
Post course support, including an alumni group with information about job and training opportunities for CELTA graduates.
All courses validated and externally moderated by the University of Cambridge English Language Assessment.
You can do the course full-time or part-time, online or face-to-face depending on your needs.

Testimonials

It was a thoroughly rewarding experience with really supportive tutors. It has really helped me to develop my teaching skills and opened my mind to a lot of different techniques! I'd highly recommend the course to anyone looking to teach abroad.

I've secured a job teaching in China. I go at the end of this month, and I couldn't have done it without my CELTA experience!

Rachel

Part-time CELTA 2018

---

The qualification is definitely worth it, not only because it has opened many more doors for me but also because of the friendships made during that time. The course is a huge commitment and you do have to be dedicated to undertake it.

I would definitely recommend the course to anyone who is considering it, especially those who learn better practically and in house.

Kate

Intensive CELTA 2017

Upcoming Course Dates

April 2023 - July 2023 Part-Time with a full-time, intensive 3-week Teaching block, online CELTA: 

This course has been cancelled due to low application numbers. Please accept our apologies for any inconvenience this may cause.

August 2023 Full-time intensive face-to-face CELTA

Course Dates: Monday 31st July - Friday 25th August 2023

Course Times: Monday to Friday 9:30am - 5:30pm 

Course length: 4 weeks

This full-time, in-person CELTA takes place over four weeks. All input and teaching assessment will be in-person at the ELTC in Sheffield. It is recommended that applicants ensure they have minimal commitments during the four weeks, and that they are able to attend 100% of the course. 

Fees for this course will be £1500 + the Cambridge fee of £162

Please note: There is no difference in the content, assessment and recognition of online and face-to-face CELTA courses. Our Online CELTA courses are an ideal way to complete the course if you are currently working or based outside of Sheffield.

Courses will be reviewed subject to UK Government guidance and if required, all input and Teaching Practice will be delivered online.

Each course requires a minimum of 6 participants to run. 

Tuition fees

Fees for all CELTA courses in the 2022-23 academic year are £1,500 (plus the Cambridge examination entry fee - £162), and £1,575 for CELTA courses in the 2023-24 academic year (plus Cambridge exam fees). 

The fee covers:

All tuition and support Cambridge Assessment entry fee
An optional 20-hour grammar course
Support using specific teaching tools (zoom/interactive whiteboards etc.)
Interactive Whiteboard (IWB) training
A pre-course task
All photocopying and printing (face to face courses)
Access to materials and stationery (face to face courses)
An end of course report
Ongoing post-course support in the form of an alumni group with job postings and references
How to apply
If you are interested in taking a CELTA course at our centre, please complete the application form:
After receiving your completed form, our Teacher Training team will contact you. 
If your initial application is successful, you will be sent a pre-interview task to complete. This task helps us to assess your suitability for the course, and gives you a better understanding of what the course involves. 
Once you've returned your completed task to us, we review your application. If successful, you will be invited to one of the weekly interview slots.
Interviews are held each week on Tuesday from 3:30pm - 5:00pm and Wednesday from 3:00pm - 4:30pm. Once your application has been reviewed, you will be invited to one of the weekly interview slots. This will be a group interview (up to 4 people) and it will be held online using Zoom.
The deadline for applications is usually 2 weeks before the start of a course. However, if this deadline has passed, please contact the TEFL team to see if places are still available.
Please be aware of the following information before applying:
CELTA courses are not suitable for applying for a Student Visa (previously known as a Tier 4 General visa) or council tax rebates.
CELTA requires an excellent level of English language and literacy to be successful on the course and this will be tested at application and interview stage.
For applicants with English as a Second/Foreign Language we advise an English level of 8.0 in IELTS, CEFR C2, Cambridge Proficiency or equivalent is needed to successfully complete the interview tasks and CELTA course.
CELTA is designed for people with little or no English language teaching experience (but those with experience can be considered with an initial discussion with the ELTC).
You should be at least 20 years old and hold qualifications that would allow you to enter a University degree (equivalent experience for mature applicants can be taken into account).
Courses are demanding in nature and you will be required to attend ALL parts of the course.
We require you buy or borrow 2 course books that we indicate prior to starting the course.
You will be required to complete all the application and interview process successfully before being made an offer on the course. Candidates may be placed on a waiting list or asked to have a second interview to check suitability.
No reductions in fees can be made and fees should be paid in full before the course starts.
Information for Under 18s
Our courses are designed for adults. Applicants who are under 18 are subject to a number of restrictions and administrative procedures. 
The standard minimum age for our courses is 18 years. However, we will consider applications from applicants who are under 18 in some circumstances, and subject to satisfactory guardianship arrangements being in place. Please contact us for more information.
For further information on under 18s at the university please visit our "Students under the age of 18" webpage".
If you have any questions or queries about CELTA, please check our frequently asked questions.
If you can't find an answer to your question in the CELTA FAQ, please contact our Teacher Training team for assistance. Email tefl@sheffield.ac.uk with the subject line 'CELTA query.'
A world top-100 university
We're a world top-100 university renowned for the excellence, impact and distinctiveness of our research-led learning and teaching.