Our University English course is a full-time general English language course for anyone who wants to improve their English language skills. The course is designed to improve your English Language skills for a variety of educational, personal and professional reasons.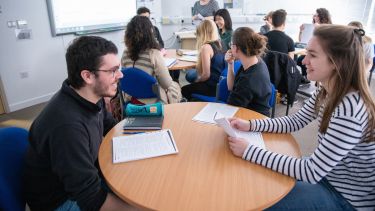 Who: Anyone who wants to improve their English language skills in a British University
Duration: You can study for as little as two consecutive weeks, or as long as 40 across all 4 terms 
Cost: £405 per week in 2022-23 - fee includes all tuition and materials
Level: CEFR A2 to C1
Hours: 20.5 per week (see timetable below for details)
When: Year round
Minimum age: Adult learning environment. Minimum age 18 years (some exceptions considered).
Accommodation: Private and University options available
Social programme: A combination of in-person and some online activities
---
Who is the University English Course for?
University English is our full-time General English development course designed to improve your English Language skills.
Our experienced tutors will support you to develop your overall English language skills on this intensive course, with flexible start and end dates all through the year.
Classes are provided at all levels from Elementary (A2) to Advanced (C1). The course is not suitable for complete beginners.
Before we can offer you a place on the course, you will need to provide some evidence of your current level of English with your application such as an English language test result (e.g IELTS, Pearson PTE, TOEFL iBT or Cambridge English PET/FCE/CAE).
If you have any other evidence of your English level, please contact us to discuss whether it is acceptable for admissions purposes.
---
What is the difference between University English and Pre-sessional English?
University English is a General English development course, whereas Pre-sessional English is an academic English programme for students planning on studying at a British university immediately after finishing their English language course.
You can start out in University English and then, providing you meet our Pre-sessional English entry requirements, switch on to Pre-sessional English after obtaining a university offer.
Any request to switch from University English to Pre-sessional English will only be approved at the course director's discretion.
---
Our University English course includes tuition and language practice in the following areas:
Writing: helping you to improve the accuracy and structure of your written work
Speaking and Pronunciation: improving the accuracy and fluency in a variety of situations
Listening: understanding spoken English in academic and general situations
Reading: developing the ability to deal with longer and more complex texts
Grammar: consolidation of the main tenses and structures of English
Vocabulary: learning more words in a variety of different contexts 
1 to 1 tutorials 
During the course you will also receive regular 1 to 1 tutorials with an ELTC tutor. These tutorials are similar to a private lesson and you can choose which areas of English you would like to focus on each week. 
The ELTC's language tutorials offer you the opportunity to receive individual teaching and be directly involved in setting your own language goals. 
Option classes
In these sessions, you can choose to study an area of the language that interests you.
The overall purpose of these lessons is to provide you with further language practice and improve your confidence in dealing with English language. We offer a range of different options classes.
For example, you could choose IELTS Examination Preparation and Practice, Grammar and Vocabulary Development, Social English and British Culture, or Reading and Speaking. You may wish to study for a specific purpose, for example, IELTS Examination Preparation and Practice, or Business English.
Please note, there needs to be enough demand from students for an option class to run.
Independent Language and Pronunciation Development
The purpose of these interactive resources is to help you develop your language skills in your own time when you are not in class. Your teacher will explain how to use these resources and will discuss specific areas for development in your tutorials. You are advised to complete at least 2 hours of independent study each week to fully benefit from this.
Flexible Study Options
In some circumstances we may be able to offer University English with fewer hours per week compared to the standard course timetable. Please contact the University English Academic Director, Helen Johnstone, to discuss your requirements further.
---
Your progress will be assessed by your class tutor and on longer courses you may be offered the opportunity to move into a higher level class.
At the end of your course you will be provided with a report and certificate showing details of your course and the level you studied at.
The ELTC offers a number of external assessments such as IELTS or Cambridge Linguaskill (charges apply) which can optionally be taken during your course.
Please note that results from University English cannot be used to gain entry onto academic programmes at the University of Sheffield.
If you wish to study an undergraduate or postgraduate course at the University and need to improve your English to meet the entry requirements, we recommend you apply for our Pre-sessional Academic English course instead.
Every moment in ELTC is useful. They use modern technology and modern techniques in teaching. They are so supportive and encourage you to improve your skills.

Haider Al-Hamadani (Iraq)

PhD Mechanical Engineering
---
Example Class Times

Please note this is an example timetable and may be subject to change. (All times UK - GMT / BST)

Monday

09:30 - 11:00 - Language Development
11:30 - 13:00 - Language Development
14:00 - 15:30 - Option Class
15:30 - 16:30 - Self Study / Tutorial

Tuesday

09:30 - 11:00 - Language Development
11:30 - 13:00 - Language Development
14:00 - 15:30 - Option Class
15:30 - 16:30 - Self Study / Tutorial

Wednesday

09:30 - 11:00 - Language Development
11:30 - 13:00 - Language Development & Lecture Preparation
14:00 - 15:00 - Online Lecture
15:30 - 16:30 - Self Study / Tutorial

Thursday

09:30 - 11:00 - Language Development
11:30 - 13:00 - Language Development
14:00 - 15:30 - Option Class
15:30 - 16:30 - Self Study / Tutorial

Friday

09:30 - 11:00 - Language Development
11:30 - 13:00 - Language Development
14:00 - 16:30 - Self Study / Tutorial
---
The course runs through the full academic year. The course start and end dates are flexible, and you can apply to start your course on almost any Monday and finish on any almost Friday* within our standard term dates.
The minimum course length is 2 weeks, and the maximum course length is 40 weeks. 
You do not require an IELTS for UKVI certificate, but we prefer if you can provide some evidence of your English level as the course is not suitable for complete beginners. A formal English language certificate is not required.
*It is not possible to start on the final Monday of a term, or finish on the first Friday of a term.
Tuition fees
The standard tuition fee for University English courses beginning in the 2022-23 academic year is £405 per week.
This fee includes:
All tuition and course materials
Course assessments
Regular 1 to 1 tutorials with your personal tutor
Individual feedback
Lectures by University of Sheffield academic staff
Educational visits to nearby cities, museums and historical places of interest (in Term 1, 2 and 3)
Access to 24 hour Library and Computing facilities at The University of Sheffield
A UCard which you can use to access University facilities and discounts in some shops and on public transport
Membership to the No.1 Students' Union in the UK for five years running.
Paying your tuition fees
You should arrange payment of your tuition fees before arrival or during the first week of the course. Please note that if you do not pay by this time, you will not be allowed to continue your studies.
You may pay by:
Credit / debit card
Western Union bank transfer
If you cancel your place before starting the course we will refund any fees you have paid in advance, minus any fees or bank charges incurred.
We are unable to accept any tuition fee payments in cash.
We can also accept payments from sponsors. Acceptable sponsors include universities, government agencies, charitable organisations and registered international companies and you will need to provide a letter confirming your sponsorship before we can issue you with any visa documentation.
Accommodation and travel
To discover the range of accommodation options we have as well as information about airport transfers, please read our accommodation and travel information.
---
Our ELTC exclusive social programme is available to all students on our University English course. During Term 4 in the Summer for a small charge we offer weekend day-trips exclusively for University English students to nearby cities such as Manchester, York, Lincoln, Leeds and Liverpool.
What we offer through our social programme
---
To apply for a University English Course please read our how to apply information and terms and conditions before submitting your application.
Please also take note of the following information:
Deadlines
The usual deadline for applying to our University English course is 4 weeks before your chosen course start date.
Entry requirements 
The course is not suitable for beginners, however there are no set IELTS requirements to join the course.
Please contact us if you are unsure of your suitability for the course.
Supporting documents
You will need to provide a copy of your passport and evidence of your English level (e.g. a recent English test result) when completing your application - please make sure you have these ready before starting your application.
If you've studied in the UK before you will also need to provide a copy of all previous UK visas and CAS statements you have received.
If your tuition fees will be paid by a sponsor (e.g. a scholarship, your national government or an employer), please also provide a letter from your sponsor confirming this. The letter should include:
A date within the last 6 months
Applicant's full name and date of birth
Sponsor's name and contact details
Specific reference to an English language course in the UK.
Information for Under 18s
Our courses are designed for adults. Applicants who are under 18 are subject to a number of restrictions and administrative procedures. 
The standard minimum age for our courses is 18 years. However, we will consider applications from applicants who are under 18 in some circumstances, and subject to satisfactory guardianship arrangements being in place. Please contact us for more information.
For further information on under 18s at the university please visit our "Students under the age of 18" webpage".
---
If you need more information you can contact us in the following ways:
Email eltc@sheffield.ac.uk
Phone +44 114 222 1780
Twitter @sheffieldeltc
A world-class university – a unique student experience
Sheffield is a research university with a global reputation for excellence. We're a member of the Russell Group: one of the 24 leading UK universities for research and teaching.