Special and bespoke courses
Learn more about arranging a special or bespoke course at the ELTC.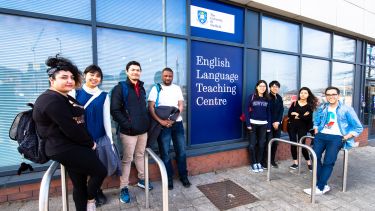 Off
The English Language Teaching Centre (ELTC) is part of The University of Sheffield and one of the largest university language centres in the UK. 
Our staff have substantial experience in organising special courses to meet the needs of our clients. It's possible to customise our existing courses, such as University English or Business and Professional English by adding elements or substituting part of the course. At certain times we can also organise closed courses for visiting groups who have a particular area of interest.
Bespoke Course Examples
Special Lecture Programmes

With many of our regular groups unable to travel due to global restrictions, we have increased our online offer to meet the needs of applicants who wish to study from a home setting. We recently launched a remote version of our University English course, and in February 2021 welcomed a group of students from Mie University in Japan for a week-long programme which featured three online specialist subject lectures delivered by academics from University of Sheffield departments. 

We are leaders at our Centre in the field of online language learning; our latest BALEAP inspection described our Technology Enhanced Learning as "sector-leading" and noted that our "impressive use of digital platforms put students at a great advantage".

Specialist lectures are also available to students travelling to Sheffield for in-person courses. We run an annual summer programme for the University of Tokyo, one of the world's leading research institutions. This group receives an exclusive two week programme which includes specialist lectures from experts in academic departments across the University in a range of subject areas. These sessions are highly interactive, as the group is also joined by current students from the University of Sheffield, whose presence can help to actively promote discussion and boost students' confidence in spoken English.

Tandem Learning

We understand the value of language exchanges for building confidence in spoken communication. With this in mind, we have previously organised bespoke courses involving tandem learning sessions for students from Chiba University in Japan and Jeju National University in South Korea, who were partnered with British students simultaneously learning either Japanese or Korean.

Tandem learning projects such as these are a great way for students to enrich their oral communication skills and learn about different cultures in a relaxed setting, and during University term-time we are able to collaborate with other language departments at the University of Sheffield to offer this alongside our standard programme. If this is something which may be of interest to your customer or client, please let us know.

Industry Specific Programmes

Our Business and Professional English programme is an excellent way for professionals to strengthen their communication skills in the workplace. Companies including the CERATIZIT Group, KDI Corporation and TOYO Aluminium K.K. regularly send personnel to join this programme, helping their employees to develop fluency and tangible leadership skills within a business context.

Our core Business English programme can be customised with additional 1 to 1 lessons and subject specific tuition. These highly-focused, individual sessions can help students consolidate material covered in class and also to discuss areas of interest with their tutor in greater depth. These may include fields such as marketing, finance, technical English or human resources, among others. 

Besides learning about contemporary business and management practices in class, students can also gain an insight into a range of relevant businesses within the local area. As a former manufacturing heartland, Sheffield is home to a number of different industries which students can visit as part of their programme, for example:

Assay Office (financial services)
Gripple (manufacturing)
Ernest Wright and Son (scissors manufacturing company over 100 years old)
Forgemasters (steel production/engineering)
Loadhog (Logistics)
David Mellor (handmade manufacturing/product design)
Thornbridge Brewery (brewing/marketing)
Transave (financial services/accounting)

Students with expertise in areas such as civil engineering may wish to visit engineering-specific sites, for example, the University's Advanced Manufacturing Research Centre, founded originally with Boeing, which is one of the world's leading research and innovation networks.

We have also provided bespoke programmes for groups of district governor trainees from the Turkish Ministry of the Interior, which include special additional elements related to their future careers in government, for example, a visit to Westminster and the Houses of Parliament, and a supervised research project focusing on aspects of British public governance.

English Tests and Examinations

Further details available soon
Visits and Social Programme
All applicants are warmly invited to join in with our core social programme, which offers a range of activities, sports, quizzes, conversation clubs and outings to different cities. These activities offer the perfect opportunity for students to get to know Sheffield along with their classmates.
We can also consider arranging additional activities and trips as part of a bespoke study package. This might include visits to local businesses (see 'Industry Specific Programmes' above for examples) or a closed trip to a location within the UK; for example, one group from Chuo University in Japan spends a weekend in Edinburgh each August, accompanied by ELTC staff.
Students on ELTC courses can join in with activities, events, clubs and societies at the University's Students' Union.
Accommodation and Travel Assistance
We are happy to assist with booking accommodation for your clients, whether they prefer to be allocated to student flats close to ELTC, or a homestay placement, which can be arranged in partnership with our agent.
While student flats tend be a great option for students who want a flexible schedule, homestay can offer a valuable experience for those seeking to immerse themselves in local life. Students who opt for homestay can expect to gain additional speaking practice through staying with a local family, who will be there to provide support as they navigate a new city and its customs. We regularly receive excellent feedback from students and hosts alike, with many forming enduring friendships and continuing to stay in touch long after the placement has finished. 
We have been a host family for the ELTC for around ten years and really enjoy it. The students are great, they fully embrace their time in Sheffield, love getting involved in activities in and out of the university and are a great addition to family life. I'd highly recommend you give it a try.

Liz Finnigan

Homestay host
To minimise stress, we are also able to organise pre-booked transport on arrival (including a meet-and-greet service), removing the need for newly-arrived students to navigate public transport systems or grapple with currency. We can provide coach bookings for groups or a taxi transfer for individuals. This service is also available on departure from Sheffield.
Student Support Services
We have a dedicated Welfare Officer ready to support students through every stage of their programme. Students are sent advice about the support services offered by the University before they start their course, and are provided with further information through a presentation in the first week of their course. Our advice is designed for English language learners and outlines the services available to help students solve any problems they might experience. They are also encouraged to book one-to-one appointments with our Welfare Officer if they would like support or guidance with any other issue during their time in the UK. 
Additionally, we employ a highly experienced visa and immigration advisor within the ELTC who can meet with students should they have any queries relating to visa and immigration requirements.
ELTC provides its students with a good level of pastoral care and is a safe and secure environment. The leisure programme is very varied and well resourced and managed. Care of students and leisure opportunities are areas of strength.

British Council

November 2019 Inspection Report
Contact Us
If you are interested in arranging a bespoke course for a group of students we would be delighted to hear from you. Initial enquiries can be sent to our academic director Helen Johnstone by email:
A global reputation
Sheffield is a research university with a global reputation for excellence. We're a member of the Russell Group: one of the 24 leading UK universities for research and teaching.