Understanding Language, Methodology and Resources for Teaching (20 credits)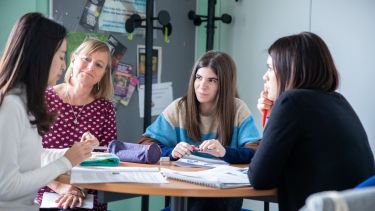 On
DELTA Module 1 focuses on the background to learning and teaching English. It is assessed via a written exam which tests candidates' knowledge and understanding of teaching and learning English in a range of contexts. The examination focuses on both theory and practice. 
According to Cambridge English Language Assessment, the aim of the Module is to extend and develop awareness and understanding of: 
theoretical perspectives on language acquisition and language teaching;
different approaches and methodologies, including current developments;
language systems and learners' linguistic problems;
language skills and learners' problems;
knowledge of resources, materials and reference sources for language learning;
key concepts and terminology related to assessment.
---
Our next fully online DELTA Module 1 course will run from 16 October 2023. If you are interested in applying, please complete the Application Form below. 
On average, you will need to spend 10-12 hours a week engaging with the course materials and your fellow participants to get the most out of the course. 
The exam will take place on the first Wednesday in June 2024. 
Tuition fee 
The course fee is £1024 in 2023/24. This includes all synchronous and asynchronous learning materials, tutor support, mock exams, library access and exam preparation.  
To apply for our next DELTA Module 1 course in October 2023, please complete the application form:
Application Form - DELTA Module 1Any initial queries which aren't answered by this webpage can be sent by email to our TEFL Admin Team at tefl@sheffield.ac.uk
---
If you would like to get an idea of what the course is like, we have a sample unit for you to try for free. To access it, follow the instructions below:
Visit the login page of our Training Foundry website: https://trainingfoundry.co.uk/login-page/ 
Register with a username and email address. After successfully registering you will be taken to the Training Foundry homepage. 
Click on My Foundry at the top of the page
In the coupon code box, type or copy/paste this text: dm1-sample-unit and click redeem
You should now see the BATT sample unit logo, click the Try for free button to access the content.
---
What is DELTA Module 1 and what does it test?

Module 1 focuses on the background to learning and teaching English in a range of contexts. The aim of this module is is to extend and develop candidates' understanding and knowledge of:

theoretical perspectives on language acquisition and language teaching.
different approaches and methodologies including current developments.
language systems and learners' linguistic problems.
language skills and learner problems.
key concepts and terminology related to assessment. 

It blends theory with practice and gives you skills and techniques that will help you throughout your career.

Who can take DELTA Module 1?

As with all DELTA modules, Module 1 is suitable for:

English language teachers who want to progress into more senior roles (e.g. teacher training, senior teacher or ADoS).
Experienced teachers who want to extend their expertise and reflect on their practice 
Teachers working with different age groups, from young learners to adults, and in any context from ESOL to EAP. 

In order to stand the best chance of being successful, we recommend that you have:

at least two years of varied ELT experience. 
an excellent level of English (CEFR C1, IELTS 8.0 or above).
good digital and academic literacies. 
an undergraduate degree (or equivalent).
the ability to cope with a level 7 (Master's level) qualification.  

Why take DELTA Module 1?

DELTA is one of the best-known and most popular advanced TEFL / TESOL qualifications in the world. It is a flexible way for experienced English language teachers to progress further in their careers.

DELTA can be taken at any stage in a teacher's career and is ideal for those wanting to update their teaching knowledge and improve their practice. DELTA Module 1 will develop your understanding of language, methodology and teaching resources. 

How is DELTA Module 1 assessed and graded?

Module 1 is assessed via a paper-based written exam. There are two papers of 90 minutes each with a 30-minute break in between. Each paper is worth a total of 100 marks.

Paper 1 consists of 5 tasks and Paper 2 consists of 3 tasks. All tasks are compulsory.

There are three passing grades: Pass with Distinction (approximately 150 marks required); Pass with Merit (approximately 130 marks required); Pass (approximately 100 marks required). 

Where and when can I take the exam?

The exam can be taken at any authorised test centre around the world. If you are based in or around Sheffield, you can take the exam at the ELTC.

The exam takes place on the first Wednesday of June and the first Wednesday of December every year. 

When will I get my result?

Results are released by Cambridge approximately two months after the exam date. Certificates are sent to centres one week after results release. We will let you know as soon as we receive your result and certificate. 

Should I take other DELTA Modules at the same time?

In theory, all three modules can be taken concurrently; indeed, there are some courses which prepare candidates for all three modules at the same time. However, If you are working full-time and/or have any other commitments, we would not recommend taking more than one module at a time due to the workload.

Although the modules can be taken in any order, we would generally recommend starting with Module 1, then Module 2, and finally Module 3.
---
How long is the course?

The course lasts for 26 weeks in total from October to May. There is a 3-week break over Christmas and a 3-week break over Easter.

Weeks 1- 20 focus on understanding language, methodology and resources for teaching and weeks 21-26 are specific exam revision.

How is the course delivered?

The course is delivered purely online and is made up of 26 units, which are released on a week-by-week basis throughout the period of the course.

The asynchronous content in each unit includes a variety of task-types, including self-study tasks; forum discussions; exam practice; analysis of answers; candidate-led research and quizzes.

There is also a synchronous session of 90 minutes every two weeks (see the next question below for more information) as well as at least two one-to-one tutorials during the course. 

Do I ever need to be online at a specific time?

The 90-minute live session takes place every two weeks at a time and date to be determined. These synchronous sessions are purely exam-focused and include exam tips, strategies and practice based on the content of the previous week's self-study tasks. Attendance at these sessions is expected, so please let us know if you are unable to attend. 

How many hours a week will I need to study?

The course units have been designed to make up approximately 5-6 hours worth of work, including working through the online content, completing the interactive tasks and contributing to the discussion forums.

It is recommended that you also allocate the same number of hours again to self-study, including background reading and research. Every other week, you will also need to attend the 90-minute live class.

Will I need to work collaboratively with my peers?

Some of the tasks and forum contributions require group or pair work. This will be a good opportunity for you to share best practice and learn from each other and will be an important part of your CPD on the course.  

Do I have to complete the units and forum tasks every week?

It is strongly recommended that you complete the units on a week-by-week basis as they are released. Although the beauty of an online course is that you can manage your own time, we have found that candidates who fall behind with the online units find it difficult to catch up later. 

The forum tasks are an important part of the course and have been designed to help you to consolidate your learning, reflect on your practice and learn from your peers and tutors. There is one compulsory forum task every week which must be completed by the set deadline.

Are the tasks I complete in the online units recorded or checked?

Unfortunately, when you complete tasks via the online asynchronous content, your answers are not recorded or stored. Therefore, as you work through the tasks, we strongly recommend that you make notes on a word document or equivalent on your computer. You may decide to handwrite notes if this works for you!

As the course is not assessed as such, we will not be checking your answers to any of the self-study tasks you complete. Taking self-study notes of key terms, ideas and theories is expected in any Level 7 qualification. We will, of course, comment on your forum tasks.

We will also be offering support and advice on the mock exam tasks and papers you complete including offering your three tutorials during the course.  

Will I be able to access the course once it has finished?

The course will be available for 3-4 weeks after the end of the course. This will enable you to use the content to revise in the week before the exam and also to save anything that will be useful for your future teaching. 

What should I do if I experience technical difficulties?

We will provide you with access to a dedicated help desk which you will need to contact and explain the problem. They will try to help you resolve the problem as soon as possible.
A global reputation
Sheffield is a research university with a global reputation for excellence. We're a member of the Russell Group: one of the 24 leading UK universities for research and teaching.