Find out about your options to study Korean at the University of Sheffield.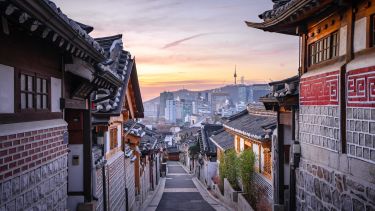 Teaching in Korean is provided by the School of East Asian Studies (SEAS), and there are a variety of options available to include Korean at both undergraduate and postgraduate level.
Undergraduate study
Undergraduate degree combinations that include Korean are:
If you are studying a non-East Asian Studies degree and have guided module choice as part of your course, you can use these to study modules in Korean (see below for details). 
Postgraduate study
The School of East Asian Studies offers a number of masters courses which can include Chinese as a language:
As one of the UK's leading centres for the study of East Asia, the School also offers an exciting and dynamic PhD research programme.
School of East Asian Studies PhD programme
---
Guided module choice and not-for-credit modules
If you aren't studying a language degree but would still like to experience learning Korean at university, you can do so through Languages for All. Languages for All is a university-wide scheme for all students wishing to develop foreign language skills, either by learning a new language from scratch, or continuing to build on existing language experience. 
Undergraduate
If you have some experience of modern language learning, you can take Korean language modules either as part of your degree (guided module choice) or alongside your degree (not-for-credit modules) as an extra-curricular activity. Please follow the link below for more information on how this works:
Postgraduate
If you are a postgraduate taught student, you can study not-for-credit modules in Korean as an extra-curricular activity in addition to your studies.
Postgraduate research students can study Korean modules on a not-for-credit basis alongside their research. These may be included in your Doctoral Development Programme (DDP) portfolio if relevant to your doctoral research and/or career development.
Postgraduate research students
---
Members of the public and University of Sheffield Staff
Not available for the academic year 2020-21
School of East Asian Studies language modules are also available to members of the general public and University of Sheffield staff on a self-funded basis through the Languages for All scheme. Please note all SEAS language modules take place Monday-Friday between 9:00am and 6:00pm.
A world top-100 university
We're a world top-100 university renowned for the excellence, impact and distinctiveness of our research-led learning and teaching.