Wind Turbine Transmissions Tribology
We have a track record of research in wind turbine bearings and transmission components. This includes industrial collaboration with the Offshore Renewable Energy Catapult through the Powertrain Research Hub.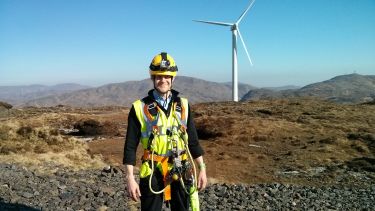 Our research aims to improve the operation, reliability and performance of wind turbine transmissions. We work closely with industrial partners on the investigation of premature failures, instrumentation and condition monitoring of wind turbine bearings. The image shows Tom Howard, one of our former PhD students in front of a Vestas V52 turbine in the Barnesmore field. In this project, funded by DECC, we worked with Ricardo and Strathclyde University to install an advanced condition monitoring system. Our unique contribution was novel ultrasonic sensors on the high speed shaft tapered roller bearing which were used to measure roller load and lubrication conditions.
Our Expertise and Activities
We are part of the Offshore Renewable Energy Catapult Powertrain Research Hub, OREC PTRH. Within this hub we work with OREC to provide research solutions for the wind industry.

We are developing unique ultrasonic sensor technology to measure, in the field, loading and lubrication in wind turbine bearings.

We use our experience of machine element tribology to diagnose component failures and develop models of component life.

We have a number of bearing test machines, and tribology contact testers to simulate wind turbine conditions and so investigate performance and validate life models.
Current and Past Research Projects
Wind turbine blade pitching bearing failures due to false Brinelling and fretting corrosion

Wind turbine gearbox bearing premature failures due to white etching cracking

Wind turbine drivetrain system dynamic load modelling under transient loading

Failure analysis and prediction using SCADA (Supervisory Control & Data Acquisition), including analysis of main bearing data.

Ultrasonic sensors for wind turbine bearing load and lubrication monitoring; measuring direct roller/race contact loads, and residual oil film in bearings.

Effects of variable wind loading on main bearing lubrication and life; joint with Dr Ed Hart, University of Strathclyde.
Contact
Prof Hui Long, h.long@sheffield.ac.uk, 
Prof Rob Dwyer-Joyce, r.dwyerjoyce@sheffield.ac.uk
Flagship institutes
The University's four flagship institutes bring together our key strengths to tackle global issues, turning interdisciplinary and translational research into real-world solutions.