Diploma in Tropical Medicine and Health (DTM&H)
The Sheffield DTM&H Diploma in Tropical Medicine & Health (short course). The Department of Infection, Immunity and Cardiovascular Disease, The Medical School, Faculty of Medicine, Dentistry and Health.
Lead Academic: Dr Paul Collini.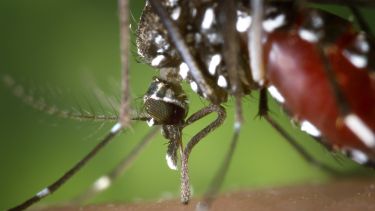 The course aims to equip medically qualified clinicians to work in tropical countries and to better understand tropical infection presenting in the UK. Students will gain essential skills and competence in clinical tropical medicine, laboratory skills in low technology settings, tropical diseases epidemiology and control, and travel health.
The course is designed for medical doctors in full time work. We use a mix of on-line webinars, face-to-face and self-directed learning to ensure the syllabus is covered with flexibility.
Webinar based and Face-to-Face Teaching

 
The core of the course involves seminars from 6.00 - 8.30pm every Tuesday evening between late August and early April - for the Public Health module,  seminars will be on four Saturday mornings between October and March. The teaching seminars will be delivered as interactive webinars using the University of Sheffield Blackboard Collaborate system. These webinars will also be recorded and available for review from 24 hours following the teaching.
Three face to face 'teach in days' will take place in Sheffield during the course. These will be used to deliver the practical teaching and be an opportunity for the class to get to know each other. The first on Malaria will be near the beginning, 10.00am – 5.00pm Friday 10th September, followed by a course dinner in the evening. The second will be two consecutive days of teaching on Thursday 13th and Friday 14th January 2022 for half the class, with the same sessions repeated on Thursday 20th and Friday 21st January 2022 for the other half of the class.
During the teaching days you will receive practical training in the use of basic microscopy to diagnose tropical infection, in line with Royal College of Physicians (RCP) DTM&H requirements.  This will teach you to prepare and read stool, urine, CSF and sputum slides, and perform diagnostic parasitology and entymology, including to make and read blood films for malaria.  Our labs are large enough to deliver this teaching while using social distancing. 
Additional training
Once restrictions allow, you will also be able to join our clinical staff and observe at least one of the STH Travel clinics on Wednesday afternoons at the Royal Hallamshire Hospital in Sheffield. 
We work closely with two sister DTM&H courses run by The University of Glasgow and MSF. Together we run fortnightly web based interactive tropical medicine tutorials from October through to April. We also schedule extra, ad hoc on-line seminars by researchers in the tropics, talking about their work. 
Sheffield DTM&H course students also have access to an exclusive two day LSHTM Tropical Parasitology Laboratory course. This external course has excellent feedback from previous Sheffield DTM&H students and is highly recommended if you wish to delve deeper into this topic. Please note the estimated cost is £480-£500 and is not mandatory.
Self-Directed learning
A substantial number of hours of private learning will be required – you should timetable for at least as many hours as spent with webinar/face-to-face teaching. Each lecturer has prepared reading material and exercises and made their presentations available in advance of their taught seminar. Some material is designed to be covered in advance of the seminars, which will then be interactive and involve discussion based on this material. All these materials can be accessed via a course Google Drive folder, with individual folders for each seminar, as well as the timetable and syllabus. 
Our lecturers are senior academics and physicians from the disciplines of infectious diseases, microbiology, virology, child health, obstetrics & gynaecology and public health across Sheffield and South Yorkshire. Some teaching is delivered by invited external speakers from fields ranging from tropical ophthalmology to water & sanitation and non-communicable diseases. 
All faculty members will make email addresses available and are more than happy to discuss your learning with you.
The exam will take place in a single day in June 2022. In 2021 this exam was sat and invigilated as an on-line exam and the same is anticipated for 2022. The syllabus, fee and administration is run by the Royal College of Physicians (London).  The syllabus breaks down as 60% Clinical Tropical Medicine, 25% Public Health and 15% Non-communicable diseases. Maternal and Child health are included within these. A topic list is provided on the RCP website. You will need to register for the exam via the RCP website in February 2022.
Exam Format
Best-of-five' multiple choice paper with 100 questions (3 hrs.)

16 image based (e.g. abnormal signs, slides, X-rays) 

84 clinical scenarios, data interpretation, epidemiology etc.

Parasitology/entomology short notes (1.5 hrs.)

50 images of parasitology/entomology where name of organism, associated condition and

or treatment will be tested.

Preventative medicine 5 questions  (1 hr.)

Write short notes on 5 of 10 questions that cover preventive medicine and international

community health in a tropical context.
The fee for the 2021/22 course will be £1390, payable using the UoS online registration. This includes all course teaching, learning materials, access to the course document folder, seminar recordings, refreshments during face to face teaching and course dinners. It does not include the LSHTM parasitology course or RCP exam fees. Payment is taken at registration for the course. There is a 'cooling off period' until the end of September 2021 when you can choose to withdraw from the course and receive a 90% refund. 
This course is designed for busy doctors in full time jobs with on call rotas and recognises that it is very difficult to achieve full attendance.  However, without attendance at the majority of sessions and undertaking substantial private learning it will be very challenging to pass the exam. At every session an attendance register is taken.
There is a requirement that at least 12 hours of microscopy training is completed for you to be eligible to sit the RCP DTM&H exam. A letter from the course stating evidence of attending the course, specifically evidence that the microscopy training has been completed will be provided for you.
It is important to us that this course delivers for all the class. We  therefore invite all the class to  complete anonymous, web-based feedback forms following each teaching session. These are reviewed in real time by the course organisers so that we can respond quickly to any problems.
For further information about the course, please contact:
Lisa Graham
Explore all postgraduate courses
A masters from Sheffield means in-depth knowledge, advanced skills and the confidence to achieve your ambitions.