Department of Neuroscience projects
Intercalated BSc Medical Sciences Research available projects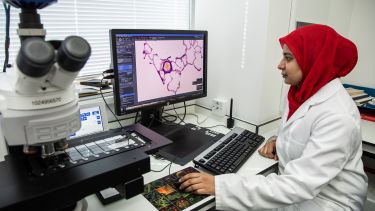 Projects: 
Using optogenetics to model neurodegenerative disease pathology in living cells

Main Supervisor

Dr Tatyana Shelkovnikova (t.shelkovnikova@sheffield.ac.uk)

Second Supervisor

Dr Guillaume Hautbergue (g.hautbergue@sheffield.ac.uk)

Aim and Objectives

To establish a novel cellular platform for modeling pathological aggregation in living cells using novel optogenetics tools to be used in research and drug discovery.

Overarching research hypothesis: This project will address i) whether pathological aggregation and inclusion formation by a neurodegeneration-linked protein FUS can be recapitulated using an optogenetic cell model of phase separation, and whether ii) such cellular models of FUS aggregation can be used for small molecule drug screening.

Research Methodology

A variety of cell and molecular biology techniques will be used: mammalian cell culture, molecular cloning, including PCR-based mutagenesis; RNA in situ hybridisation; immunocytochemistry; fluorescent microscopy; drug treatment; confocal imaging (Opera Phenix); automated quantification of cellular phenotypes. A novel imaging platform will be established which will enable inducible aggregation of a prototypic neurodegeneration linked protein FUS in living cells upon their activation with blue light. This platform will be validated in a small-scale (2,000-5,000 compounds) small molecule screen using a confocal imaging system.

Expected Outcome

A bespoke platform for the analysis of mutant FUS protein aggregates in living cells will be established. It will allow induction of FUS aggregation on demand without a specific stress trigger, and its monitoring in real-time. The ability of small molecule drugs to modulate (reverse or prevent) aggregation will be examined using this system.

Type of Project

Lab/Bench Project - primarily working in a lab environment

Additional Training

The student will be trained in all core molecular and cell biology techniques (generation of genetic constructs for expression in mammalian cells, cell culture, preparation of samples for imaging, confocal imaging, quantification of aggregate formation and cellular toxicity, data presentation and statistical analysis using GraphPad). Training received during the project will equip the student with essential set of skills and knowledge to successfully undertake any biomedical laboratory project in the future.

Case control cohort study to understanding the disease progression and molecular mechanisms associated with hereditary spastic paraparesis and spastic ataxia due to genetic mutations

Main Supervisor

Dr Channa Hewamadduma (chewamadduma1@sheffield.ac.uk)

Second Supervisor

Professor Nigel Hoggard (n.hoggard@sheffield.ac.uk)

Aim and Objectives

1. To systematically assess the MRI/DTI of a cohort of genetic spastic ataxia patients for gene specific changes in DTI with disease progression
2. To accurately determine disease progression using neurological examination, clinical severity scores and instrumented gait assessments and detailed neurocognitive assessments using recognised scales
3. To analyse correlation between MRI/DTI findings and clinical assessments to identify radiological markers that can predict early potential clinical deterioration

Research Methodology

Sheffield has the larges UK cohort of spastic ataxia patients due to SPG7 gene mutation. Consecutive patients who carry genetic diagnosis of genetic spastic ataxia will be approached if they meet the inclusion and exclusion criteria for the study
and consented to take part in the study. Our study is a descriptive cohort study which will compare DTI/MRI imaging and clinical correlations with an age and gender matched historical control group. Patients will have their gait assessed together with clinical assessments. Student will be trained to carry out all the assessments.

This is a funded project and ethics is already in place.

Expected Outcome

1. obtain longitudinal data on clinical progression
2. Able to correlated MRI findings and clinical progression
3. Assess data from cognitive function, clinical progression and identify neuro-imaging / MRI biomarker/s
4. Publish the findings in a reputable journal
5. Present the findings at national and international conferences

Type of Project

Clinical project - based in the clinical environment with patients/including service evaluation

Additional Training

Student will be fully trained to conduct a detailed neurological examination.
Student will attend regular consultant clinics and will be exposed to patient assessments
Student will have his/her own cohort of patients that they will liaise with directly for clinical assessments and MRI scanning
Student will receive guidance on analysis of clinical and radiological data by experts

Electrical impedance spectroscopy of muscle for neurological disorders

Main Supervisor

Dr James Alix (j.alix@sheffield.ac.uk)

Second Supervisor

Dr Jamie Healey (jamie.healey@nhs.net)

Aim and Objectives

The aim is to assess the utility of novel impedance spectroscopy as a biomarker of neurological disease.

The objectives are to assess the intra- and inter-observer reliability of the novel impedance system, to assess the ability of the novel impedance system to detect disease in different neurological disorders and to assess the correlation between impedance data and patient symptoms.

Research Methodology

Identifying and monitoring neurological diseases can be difficult. We have developed a novel impedance system which uses a tiny, imperceptible electrical current to assess the health of muscle.

In this project we will be testing the new system on patients with neurological disorders. The main areas of interest are motor neurone disease and spasiticity in stroke.

In this project the student will learn how to undertake clinical research. They will learn how to undertake the muscle impedance recordings from patients, perform muscle ultrasound and assess disease burden using established disease scales. Over the duration of the project the student will become increasingly independent in performing all measurements and lead the data collection.

Statistical analyses will then be undertaken.

Expected Outcome

The project will contribute results on the reliability of the new impedance device and its ability to detect disease.

The data will be used to generated publications and opportunities to present the results at conferences will be explored (many conferences have been cancelled during covid which may limit the latter opportunity).

Type of Project

Clinical project - based in the clinical environment with patients/including service evaluation

Additional Training

Training in the following will be provided: impedance recordings, muscle ultrasound, quantitative muscle strength testing and disease severity assessments.

Data analysis will be performed using the skills gained in the statistics course.

Developing and testing clinical digital tools to assess and manage emotional distress in patients with motor neurone disease and their carers

Main Supervisor

Dr Esther Hobson (e.hobson@sheffield.ac.uk)

Second Supervisor

Dr Emily Mayberry (emily.mayberry@sheffield.ac.uk)

Other supervisors

Professor Chris McDermott

Aim and Objectives

Evaluate current tools used to assess emotional distress, anxiety and depression with particular relevance to patients and carers of people with motor neuron disease
Identify the components of emotional distress and how they are experienced and communicated by those living with MND
Develop and evaluate a clinical tool that can be used remotely to assess emotional distress
Implement the tool and assess levels of emotional distress in the MND clinic in Sheffield

Research Methodology

The student will work within the internationally recognised clinical MND research team who are developing an innovative telehealth system (TiM) which has enabled clinical care to continue remotely during COVID-19.

This is now being used within MND centres in Europe. At present the tools to detect emotional distress are limited and may not be acceptable in MND. The student will:

Conduct a literature review to a) identify questionnaires that measure emotional symptoms and evaluate them using COSMIN approved checklists and use qualitative methods to assess their acceptability, validity and reliability in patients and carers and b) describe the incidence and nature of of emotional distress in MND
Conduct qualitative interviews with patients, carers and healthcare professionals and do secondary analysis of existing data to look at how patients and carers experience emotional distress, depression and anxiety and explore their language, relationships with their physical and mental health and their attitudes and experiences of emotional/psychological care
Develop a tool and do initial testing with patients, carers and healthcare professionals using interviews/questionnaires and applying user-centred design techniques
The questionnaire will then be placed into TiM and used with patients and carers and we will conduct analysis of these results in combination with other clinical measures that are also collected (depression, anxiety scores, cognitive assessments etc.)

Expected Outcome

The ultimate aim is to develop a tool(s) that can monitor patient and carers' emotional distress which will be integrated into our telehealth system used in multiple MND centres to support MND care as well as measure the success of new psychological interventions that we are developing. The students will work in the large, dynamic clinical research group working on the clinical care of MND which includes doctors, psychologists, nurses and therapists. They will develop a wide range of research skills and typically students working on these projects publish 1-2 papers in high impact journals and present their work at international conferences. Previous students have also continued to be involved in the research which have led to successful research grants and publications and the implementation of an assessment tool in the clinic.

Type of Project

Clinical project - based in the clinical environment with patients/including service evaluation

Additional Training

Literature review skills, qualitative research methods (interviewing), structured patient reported outcome measure development, training in NVivo

Role of Remote Ischaemic Preconditioning (RIPC) on Activity, Fatigue and Gait in people with Multiple Sclerosis.

Main Supervisor

Dr Krishnan Padmakumari Sivaraman Nair (siva.nair@nhs.net)

Second Supervisor

Professor Claudia Mazza (c.mazza@sheffield.ac.uk)

Aim and Objectives

Primary Aims
1) To assess whether RIPC can increase activity in people with MS
2) To assess whether RIPC can reduce fatigue in people with MS
3) To assess whether RIPC can improve gait in people with MS

Secondary Aims
1) To assess whether RIPC can reduce the impact of MS on people's life.
2) To assess whether RIPC can improve the quality of life in people with MS.

Research Methodology

Participants will be randomised to receive either RIPC or a sham intervention (sham). They will not be told which group they are in.
Participants and their carer will be taught how to perform the relevant intervention and be asked to do so at home every day for six weeks.

Physical activity, gait and fatigue will be compared before and after the intervention period. Participants will be asked to wear an activity monitor at home for 1 week before and after the intervention to measure levels of activity. To assess gait, participants will complete the 6 minute walk test wearing inertial sensors which measure gait and distance walked. The modified fatigue impact scale will be completed before and after the intervention and levels of exertion recorded after each 6 minute walk test.

Expected Outcome

Primary analysis will focus on the comparison of the outcome measures at baseline and after the 6 week home intervention period. As a secondary analysis, the outcome measures will be compared before and after the intervention within the visit.

Type of Project

Clinical project - based in the clinical environment with patients/including service evaluation

Additional Training

Progress in new technologies has given rise to devices and techniques which allow more objective evaluation of activity, gait and fatigue. This reduces the error margin caused by subjective techniques [4] and potentially shortens the time needed to detect changes resulting from an intervention. Among these technologies, the currently most adopted are wearable sensors and pressure insoles, dynamometry (DYN), and surface electromyography (sEMG). The INSIGNEO biomechanics laboratory, recently established as part of the NIHR Sheffield Biomedical Research Centre (BRC), is now equipped with all the state of the art sensors needed to perform the above type of assessments.

Wearable sensor systems (e.g. pressure and bend sensors, accelerometers and gyroscopes, heart rate monitors) allow for recording and characterisation of walking "out of the laboratory", for example, in patient's homes, at clinic visits, and during the course of their everyday lives. Their most common application is in the analysis of a patient's motor performance, as recorded while the patient is performing traditionally established tests such as the six-minute walk, 10-minute walk, or timed up and go (the participant is asked to rise from a chair, walk seven metres, turn around, walk back to the chair, and sit down). In addition, wearable sensors can be used to monitor a patient's gait and physical activity patterns for prolonged periods of time, such as while at home or at work. Wearable sensors allow the recording of several parameters, such as step and stride duration and frequency, gait speed, balance, symmetry and joint angles.

We aim to utilise the above technologies to assess whether RIPC can improve activity, gait and fatigue in people with Multiple Sclerosis. Using validated patient reported outcome measures we will also assess whether RIPC can reduce the impact of MS on people's life and improve the quality of life in people with MS.
A world top-100 university
We're a world top-100 university renowned for the excellence, impact and distinctiveness of our research-led learning and teaching.