Sheffield Children's Hospital projects
Intercalated BSc Medical Sciences Research available projects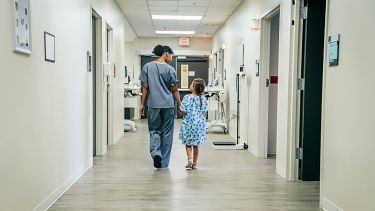 Projects:
Identifying factors associated with azithromycin resistance in nasal microbiome in children.

Main Supervisor

Dr Kelechi Ugonna (k.ugonna@nhs.net)

Second Supervisor

Dr Fiona Shackley (fiona.shackley@nhs.net)

Other Supervisors

Dr Simon Hardman

Aim and Objectives

The primary objective will be to identify what the level of azithromycin resistance in nasal flora of children without respiratory co-morbidity and compare it with the level we have already observed in children with protracted bacterial bronchitis
The secondary objective will be to identify demographic features, prescribing patterns (in both primary and secondary care), and clinical factors in both groups that may be associated with azithromycin resistance.

Research Methodology

The student will prospectively recruit 20 children without respiratory co-morbidity between the ages of 1 and 7 years old. They will perform a single nasal swab and they will analyse this swab for microbiology and antimicrobial resistance. This will be compared to similar data already obtained for patients who have a diagnosis of bacterial bronchitis.
The student will then undertake a study to identify detailed clinical and prescribing history in both patient groups to see if there are any factors that are related to increased azithromycin resistance in these study groups.

Expected Outcome

Our research group has already identified that patients with bacterial bronchitis (even those who have not been treated with Azithromycin) have a really high rate of resistance to this antibiotic.
We would like to identify whether this rate is higher than the background rate of our population and we would further like to identify whether there are any clinical, demographic and prescribing factors that are associated with this resistance.

Type of Project

Clinical project - based in the clinical environment with patients/including service evaluation

Additional Training

This will be a clinical project involving recruiting children and performing nasal swabs. The student will also benefit from being shown how to analyse nasal swabs for microbiology and also antibiotic resistance.
In addition, the student will be able to attend and sit in on paediatric respiratory clinics for their experience.
A world top-100 university
We're a world top-100 university renowned for the excellence, impact and distinctiveness of our research-led learning and teaching.