Aeterna Zentaris Announces Notice of Allowance for U.S. Patent Covering AEZS-150 for the Potential Treatment of Chronic Hypoparathyroidism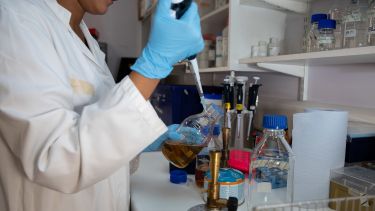 The patent application entitled, "Parathyroid Hormone Fusion Polypeptide" includes claims intended to cover Aeterna Zentaris' development candidate AEZS-150, and certain analogues. 
A Notice of Allowance is issued after the USPTO makes the determination that a patent should be granted from an application. A patent from the recently allowed application is expected to be issued in the coming months. 
As we continue to advance our DC-PTH program in collaboration with The University of Sheffield, we are pleased to bolster its intellectual property portfolio. This soon-to-be-issued patent is expected to provide protection for our development candidate AEZS-150 through at least 2038.

Dr. Klaus Paulini

Chief Executive Officer of Aeterna
Aeterna's lead development candidate, AEZS-150, is a proprietary fusion protein consisting of a modified growth hormone binding protein (GHBP) linked to parathyroid hormone PTH1-34 with the goal to provide a PTH analogue with delayed clearance of one or two weeks. AEZS-150 is in pre-clinical development for the potential treatment of chronic hypoparathyroidism in adults. 
Primary hypoparathyroidism is an orphan indication in the field of endocrinology. It is an uncommon condition in which the body produces abnormally low levels of PTH. PTH is a key regulating hormone essential for calcium homeostasis and renal phosphate clearance for maintaining a balance of those two minerals in the body. Untreated, primary hypoparathyroidism will cause, among other effects, renal dysfunction, muscle cramping, twitching, seizures, and cardiac arrhythmias. Approximately 23 to 37 in every 100,000 individuals in Europe and the U.S. are estimated to suffer from hypoparathyroidism.