Dr Scott Allen
PhD
Department of Neuroscience
Lecturer in Neuroscience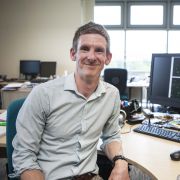 s.p.allen@sheffield.ac.uk
+44 114 215 9103
Sheffield Institute for Translational Neuroscience (SITraN)
Full contact details
Dr Scott Allen
Department of Neuroscience
Sheffield Institute for Translational Neuroscience (SITraN)
385a Glossop Road
Sheffield
S10 2HQ

Profile

I obtained my PhD from the University of Manchester where I characterised protein import and folding in the mitochondrial intermembrane space. My work showed that juxta-positioned intradisulphide bonding through transfer of electrons to cytochrome c via Erv1, is key for the folding of the TIM proteins. My work was highlighted on the front cover of the Journal of Molecular Biology (Allen et al (2005). J. Mol. Biol. 353:937-44).

I followed this up with a post-doctoral position focussing on the myelin sheath proteolipid protein and its folding in the endoplasmic reticulum. I then moved into the pharmaceutical industry with AstraZeneca developing biochemical assays to validate RNA aptamers as small molecule inhibitors and lentiviral vectors as shRNA delivery tools.

I joined the Department of Neuroscience at the University of Sheffield in 2009. I was the first in the field to use an XF bioanalyser (Seahorse Bioscience) to simultaneously measure the effect of MND on mitochondrial and glycolytic function in disease cellular models. Using this technology, we discovered in 2013 that oxidative stress is not only detrimental to mitochondrial function but also glycolytic function in cell models overexpressing mutant forms of the SOD1 protein.

In 2014, we showed that skin cells isolated from MND patients show similar mitochondrial dysfunction to that observed in the CNS. However, unlike in the CNS, the skin cells can upregulate their glycolytic pathways to maintain energy levels. Through transcriptomics and functional analysis, we found that there are significant changes in key metabolic regulators and altered metabolic function in skin cells isolated from sporadic cases and that these sporadic cases have an altered metabolic response to aging compared to controls.

Recently, I was the first in the field to use a phenotypic metabolic profiling system (OmniLog™) to screen MND patient cell lines. This approach in combination with metabolic flux analysis has identified a number of novel targets for MND study.
Qualifications

2016-2019
Motor Neurone Disease Association Senior, Non-Clinical Fellow
Sheffield Institute for Translational Neuroscience, the University of Sheffield

2009-2015
Senior Post-Doctoral Researcher
Sheffield Institute for Translational Neuroscience, the University of Sheffield

2006-2008
Post-Doctoral Researcher
AstraZeneca

2004-2006
Post-Doctoral Research Associate
The University of Manchester, Faculty of Life Sciences

2000-2004
PhD The University of Manchester
Faculty of Life Sciences
Research interests

The main research focus of my group is identifying the role of dysfunctional energy generation in neurodegenerative conditions, with particular interest in Motor Neurone Disease (MND). Our primary aim is to develop therapeutic strategies by:

Using phenotypic metabolic screening to identify novel targets for therapeutic intervention using patient-derived fibroblasts and induced neuronal progenitor cell derived human astrocytes.
Develop nutritional supplementation regimes for people with MND.

In vitro we use various cell models, including primary patient cells and genetically reprogrammed human progenitor cells and in vivo we use models such as zebrafish to investigate the role of astrocyte and neurone energy metabolism and how they affect disease progression. We are interested in;

How MND effects metabolic pathway regulation and interaction.
How metabolism responds to disease specific cellular stress such as oxidative stress and hypoxia.
How the disease affects the metabolic response to ageing in patients.

The main research tools and techniques used in my laboratory are:

Human astrocytes and neurons derived from fibroblasts through genetic reprogramming (collaboration with Dr Laura Ferraiuolo, (University of Sheffield).
Mouse stem cells expressing the green fluorescent protein under the Hb9 promoter, resulting. in GFP+ motor neurons (collaboration with Dr Laura Ferraiuolo, University of Sheffield using cells kindly donated by Professor Thomas Jessell (Howard Hughes Medical Institute).
Metabolic screening using an OmniLog™ metabolic profiling system.
Metabolic flux analysis using an XF24 bioanalyser.
Analysis of neuronal stress in zebrafish models of MND
Hydrophobic interaction liquid chromatography-Mass spectrometry to assess nucleoside levels in patient Cerebrospinal fluid (CSF) (collaboration with Prof Martin Turner (University of Oxford) and Dr Hector Keun (Imperial College London).

Current projects which we are seeking both funding and PhD students for include (please contact me directly if interested (s.p.allen@sheffield.ac.uk);

The role of adenosine deaminase in MND.
How MND affects metabolic substrate transport.
How MND affects glycogen storage and mobilisation.
How fructose metabolism affects energy generation in MND astrocytes.
Investigating the protective role of estradiol in MND (collaboration with Dr Tennore Ramesh).
Metabolic screening of sporadic Parkinson's disease patient fibroblasts and astrocytes (collaboration with Dr Heather Mortiboys and Prof Oliver Bandmann).
How hypoxia affects metabolic energy generation in Alzheimer's disease and motor neurone disease (collaboration with Dr Julie Simpson and Dr Claire Garwood).
The role of inosine in MND (collaboration with Prof Martin Turner (Oxford) and Dr Hector Keun (Imperial College London).
How spinal muscular atrophy (SMA) affect energy pathway flux (collaboration with Dr Paul Heath).
Publications

Journal articles

Conference proceedings papers
Grants

Academy of Medical Sciences- Springboard £99,997 Investigating how the MGO-NRF2 cellular protection pathway is affected in amyotrophic lateral sclerosis (ALS). Ref SBF005\1064
2018- Alzheimer's Research UK, £98,594.70. Equipment grant application for an i2/H35 Hypoxic Chamber PI, Scott Allen
2016- Neurocare Charitable Trust £72,000. Equipment proposal for an OmniLog™ system. PI, Scott Allen
2015- The Motor Neurone Disease Association -£248,000. Senior Non-Clinical Fellowship
2014-Neurocare Charitable Trust-£5600. Metabolic Profiling Pilot Study funding
2010- Neurocare Charitable Trust £71,967. Equipment proposal for Seahorse XF24 Bioanalyser. PI, Scott Allen

Our Funders

The Motor Neurone Disease Association (MNDA)
Neurocare
Alzheimer's Research UK
Academy of Medical Sciences
Teaching activities

I teach on the MSc courses in Translational Neuroscience, Translational Pathology and Molecular Medicine focussing on metabolomics. I also supervise MSc and undergraduate project placement students during their research projects. Co-lead of the MSc module MED638-Ethics in Neurodegeneration.
Professional activities and memberships

Reviewer for several funding bodies, including the Motor Neurone Disease Association (MNDA) and the Medical Research Council (MRC).
Scientific link on the Sheffield Motor Neurone Disorder Research Advisory Group (SMND-RAG).
Trustee of the Nick Smith Foundation
Reviewer for the BBSRC, Action AT, Brain Communications, Molecular Neurobiology