Dr Charlotte Elder
BSc, MBBS, PhD, DRCOG, MRCPCH
Department of Oncology and Metabolism
Senior Clinical Lecturer in Paediatric Endocrinology and UKRI Biomedical Sciences Innovation Scholar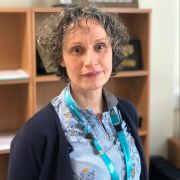 c.j.elder@sheffield.ac.uk
+44 114 305 3282
Room 10, The Damer Street Building, Sheffield Children's Hospital
Full contact details
Dr Charlotte Elder
Department of Oncology and Metabolism
Room 10, The Damer Street Building
Sheffield Children's Hospital
Western Bank
Sheffield
S10 2TH

Profile

For enquiries, please contact - om-operational@sheffield.ac.uk

Charlotte Elder received her undergraduate medical degree from Imperial College, (University of London) UK in 1999 and, after initially training as a general practitioner, retrained in paediatrics and further specialised in paediatric endocrinology and diabetes. She moved from London to Sheffield in 2005 in pursuit of excellent paediatric endocrinology training combined with affordable housing and fabulous local countryside.

Dr Elder started working for the University of Sheffield in 2009 when she undertook a clinical research fellowship to study for her PhD. After two years she moved to a clinical lectureship, combining her PhD work with running the Child Health undergraduate course for The Medical School. Her PhD was awarded in 2015 and she returned to clinical medicine to train in tertiary level paediatric endocrinology and diabetes but missed academia, so 8 months later returned to The University of Sheffield as an NIHR Academic Clinical Lecturer. In May 2018 Dr Elder took up the post of Consultant in Paediatric Endocrinology and Diabetes at Sheffield Children's Hospital and three months later was appointed as Senior Clinical Lecturer at the University. In June 2021 Dr Elder started a three year secondment as a UKRI Biomedical Science Innovation Scholar. Clinically her specialist interests are adrenal insufficiency, adrenal function testing and paediatric and adolescent gynaecology.
Research interests

Charlotte Elder's main research area is adrenal insufficiency, with the development of a non-invasive Short Synacthen Test (diagnostic test), using a novel formulation of Synacthen (Nasacthin) for nasal administration and the measurement of the glucocorticoid response in saliva samples. She has led a team over five pharmacokinetic studies in adults and children and is currently working up the next phase of clinical trials. There is a patent application filed for the novel formulation and both commercial and research arms to the current workstream. She is the lead for a clinical trial looking to determine whether awakening salivary cortisone is an effective screening test for adrenal insufficiency in children (SCAIT-junior study) and is working on novel approaches to salivary collection in very young children and babies (NITS study). She is involved with other related projects, particularly involving iatrogenic adrenal insufficiency caused by prescription corticosteroids.

Charlotte's other research interests include a cross-discipline bioengineering project developing pubertal simulation tools for training purposes.

Dr Elder is passionate about fostering research interests in junior colleagues and making research accessible for all health care professionals. She has supervised over 60 medical students and junior doctors, helping them present, publish and win prizes. Her enthusiasm extends to teaching and she was awarded a Clinical Teaching Award by the University in 2015. 

Current projects:

Nasal Tetracosactide and Chitosan for Adrenal Stimulation - Chief Investigator

Randomised, double-blinded, placebo-controlled cross-over trial in healthy women, men and children
Randomised cross-over trial in a patient population with adrenal insufficiency
Normative data study in healthy children to derive reference centiles for The Nasacthin Test

SCAIT-junior (Salivary Cortisone Adrenal Insufficiency Test) assessing awakening salivary cortisone for AI screening - Chief investigator
NITS (Neonatal, Infant and Toddler salivary collection study) - Chief investigator
ACTH and cortisol modelling to improve AI screening - Co-lead
Tertiary Adrenal Insufficiency programme of work - Co-lead
Publications