Dr Meena Balasubramanian
MBBS, DCH, FRCPCH, MD
Department of Oncology and Metabolism
Senior Clinical Lecturer in Musculoskeletal Genetics
Consultant Clinical Geneticist and Lead Consultant, OI-Genetics Service, Highly Specialised Severe, Complex and Atypical OI Service, Sheffield Children's Hospital.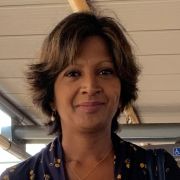 m.balasubramanian@sheffield.ac.uk
The Medical School
Full contact details
Dr Meena Balasubramanian
Department of Oncology and Metabolism
The Medical School
Beech Hill Road
Sheffield
S10 2RX

Profile

I am the Lead Consultant Bone Geneticist for the nationally-commissioned OI services in England based across 4 centres- Birmingham, Bristol, London and Sheffield. I was the Working Group-1 (Diagnostic Challenges) Co-leader for BOND ERN (Rare Bone Disease- European Reference Network); Musculoskeletal Genomic Clinical Interpretation Partnership (MSK GeCIP) sub-domain lead for Bone Fragility. My research so far has focused on in-depth phenotyping; genomics and improving diagnostic pathways in rare bone disorders and paediatric dysmorphology. 

Having completed my training in Paediatrics, I undertook specialist training in Clinical Genetics at Sheffield (2007-2012). I commenced work as a Consultant Clinical Geneticist in 2012 based at the Sheffield Children's Hospital. During my MD (research) at the University of Sheffield, based on studying genotype in patients with Osteogenesis Imperfecta (OI), I started to develop pathways to optimise diagnosis in this rare disease group and ensuring that a genetic diagnosis is made accurately and promptly in these patients, so they receive the best available care in specialist centres.
Research interests

My research interests are in the area of bone genetics/ osteogenesis imperfecta/ paediatric dysmorphology and genomic medicine.

As part of my clinical role, I have been instrumental in establishing the bone genetics service in Sheffield and streamlining diagnostic pathways in children with rare bone phenotypes. This has led to improved diagnosis and better patient outcomes in this disease group.

I have been pivotal in conducting research looking at deep phenotyping in OI patients with studies focused on skin biopsies (through the first Musculoskeletal group NIHR Rare Disease Translational Research collaboration funding), fracture risk prediction models and genomic studies in cohort of OI patients with unknown causality. I am the Musculoskeletal Genomic Clinical Interpretation Partnership Bone Fragility lead for 100,000 Genomes project. Over the last 2 years, I have been key to approving bone and connective tissue disorders for inclusion in this project and starting to apply for projects to lead on data analyses for OI.

My other areas of research interest include autism and bone fragility, SATB2-associated syndrome and neurodevelopmental genetic disorders (see below).

In the area of paediatric dysmorphology and genomic medicine, I have several studies focused on genotype-phenotype correlation in newly identified genes from next generation sequencing studies such as Deciphering Developmental Disorders study and have several first/ senior author papers published in this area. I have published the largest global clinical series of patient cohort with rare gene disorders including HNRNPU (2017), ASXL3 (2 017/2020), SIN3A (2021), IQSEC2 (2019), YWHAG (2020), ZMYND11(2020) and written expert literature (Genereview/ Orphanet) for ASXL3 & SIN3A developing international guidelines on diagnosis & management of these rare genetic conditions (2017-20).
Publications
Grants

Key grants as lead applicant:

Family mapping in Hypophosphatasia (2021, Alexion £223,000).
OI Patient diagnostic journey (2017-20, Brittle Bone Society first research call £9,958).
Developing novel OI therapies (2018-, £90,839 Sanofi Genzyme).
Exomes in OI (2014-17, £43,769 Children's Hospital Charity).
Deep OI phenotyping (2014-, first Musculoskeletal NIHR Rare Disease Translational Research £26,475).
Teaching interests

I have built a research group comprising doctors & allied health colleagues (lab & genetic counsellors) with a global reputation through publications & presentations in international meetings. I have supervised my group in research outputs (Brueton Prize) & first-author publications in high impact journals like JMedGenet, ClinGenet, HumMut (28 so far). I have 4 non-Genetics trainees on secondment, involved in research projects.

Trainees (Genetics, Neonatal, Neurology, Dental) from other centres have sought my supervision; I supervise 5 non-Sheffield trainees with DDD CAP studies.

My teaching interests are mainly in supervising undergraduate and postgraduate students in genomic medicine projects. I am currently supervising PhD (1 with Insigneo), MSc (2), BMedSci students; supervising applications for PhD/ MD projects-3 (2016-17). I provide supervision to DClinSci (2020-), University of Manchester.

SSC Student Placements: 2/year

I also provide clinical supervision to 2 Genetics Speciality trainees. I undertake STEPP teaching for Paediatric trainees. I am one of two convenors for RCPCH Genetics session (2015-date).

I am an invited reviewer for several genomic medicine and bone genetics manuscripts (2-3/week) & grant review (MRC, Temple Foundation; ESPE; Wellcome) (2014-date).
Professional activities

International

Rare Bone Disease European Reference Network Working Group 1 (Diagnostic Challenges) Co-leader (BOND ERN)- 2017-2021.
Steering group member for BOND ERN- 2017-2021.
2018: I set out & presented White Paper on current status of OI diagnosis & improving patient pathways at European Parliament.
2017-20: BOND-ERN WG member: 'Research', 'Education', 'Clinical Guidelines'.
2020- : Participant in EuRR Bone Registry as medical member.

National

I am one of two NHS Genomic Medicine Service Alliance North East Yorkshire (NEY) Research Collaborative representing our region on national genomics research board; in 2021 I produced a capacity statement & strategy document for delivering mainstream genomics research for NHS England (2020- to date).
Elected representative of national constituent body, Clinical Genetics Society 2017- 2021. As CGS Council Consultant member, I led a working group & wrote National job plan document for Consultant Geneticists for NHS England service specification for Clinical Genetics Services submitted to Clinical Reference Group.
GeCIP sub-domain lead for Paediatric Bone Fragility and Metabolic Bone Disease under the Musculoskeletal theme GeCIP (Genomic Clinical Interpretation Partnership) for the 100,000 genomes project- 2016- to date.
Research lead for NIHR portfolio & non-portfolio research delivery for Sheffield Genetics (2020- to date).

Patient support groups Medical Advisory Board (MAB)

Medical Advisory Board Member, Brittle Bone Society.
Medical and Scientific Advisory Board Member, SATB2 international support group.
Scientific Advisory Committee member, Sheffield Children's Hospital Charity (2018-).
Patient information leaflets

2020-21: Genetics in OI; pregnancy in OI leaflets

2019-20: Brittle Bone Society: Genetics Podcast; public lectures on autism

2013-20: Unique guides for these genetic disorders- ERF, IQSEC2, HNRNPU, ASXL3, SIN3A; 16p11.3 & 2q33 deletion syndrome (https://www.rarechromo.org/disorder-guides/)