Dr Michelle Lawson
BSc, PhD, AFHEA
Department of Oncology and Metabolism
Lecturer in Bone and Cancer Biology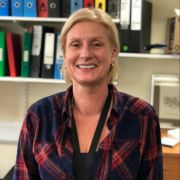 m.a.lawson@sheffield.ac.uk
+44 114 215 9054
Office EU29, E Floor, The Medical School
Full contact details
Dr Michelle Lawson
Department of Oncology and Metabolism
Office EU29, E Floor
The Medical School
Beech Hill Road
Sheffield
S10 2RX

Profile

I graduated from the University of Sheffield in 1997 with a BSc honours in Molecular Biology. I obtained my PhD in 2000 from the University of Bristol, after conducting my research at the Institute of Animal Health, investigating the use of cytokines as DNA vaccine adjuvants.

In 2000 I began my research career in the field of bone biology at the University of Oxford. While there I developed various biomaterials for bone scaffolding and a novel technique to measure the bone binding affinities of bisphosphonates, drugs used in the prevention of bone disease.

In 2005 I moved back to the University of Sheffield where I worked in Professor Peter Croucher's Bone Biology Group in the Department of Human Metabolism. My research involved looking at the effects of bisphosphonates in preclinical models of multiple myeloma.

In addition, I developed a novel multiphoton microscopy technique to allow the visualisation of single cancer cells in bone. This work led to the identification of several key molecules involved in the early stages of myeloma bone disease.

In 2012 I became a Research Fellow in the Department of Oncology and I now lead my own research group.
Research interests

My main research interest is myeloma bone disease. Over the last 10 years I have developed and established several preclinical murine models of myeloma to study therapeutic agents in the early, mid and late stages of the disease.

This has led to an increased understanding of the role of the bone microenvironment and how it influences tumour growth. I am currently investigating the use of bisphosphonates in combination with other bone modulating agents to repair myeloma-induced osteolytic lesions in preclinical models, with the aim of translating these findings into patients.
Publications

Journal articles

Chapters

Conference proceedings papers
Grants

Bloodwise Project Grant (2016-2019). Investigation of the E3 ligase HUWE1 as a therapeutic target in multiple myeloma.

Dr A. Ervine, Dr L. Crawford, M. Pearson, Prof M. Eliers (Queens University Belfast), Dr M. A. Lawson & Dr A. Chantry. Bloodwise Grant No. 15043. £202K

Bloodwise Project Grant (2015-2018). Preclinical testing of low dose valproate and niclosamide (VaN) as a novel anti-myeloma therapy.

Dr F. Khanim, Dr M.A. Lawson & Prof. M Drayson. Bloodwise Grant No. 15025. £245K

Bloodwise Specialist Programme Grant (2016-2018). Novel targets and therapeutic combinations in myeloma.

Dr A. Chantry, Dr M.A. Lawson & Dr J. Snowden. Bloodwise Grant No. 12053. £1.8M

Bone Cancer Research Trust PhD Studentship (2015-2018): Purinergic Signalling in Osteosarcoma.

Dr A. Gartland & Dr M.A. Lawson. £147K

Sheffield Blood Cancer Trust (2015-2016). High potency, low affinity bisphosphonates pilot study.

Dr A. Chantry, Dr M.A. Lawson & Prof R.G.G. Russell. £5K

Shin Poong Pharma (2017) Investigating the role of a potential bone anabolic agent in vitro & in vivo.

Dr M.A. Lawson. £140K Sheffield Blood Cancer Trust (2015-2016). Investigating changes in the tumour bone microenvironment during the development of multiple myeloma and testing novel strategies for clinical intervention.
Dr M.A. Lawson, J. Paton-Hough (Sheffield) & Dr F. Errington-Mais (University of Leeds). £5K
Teaching interests

I regularly lecture on in vitro and in vivo models of bone cancer on the Molecular Medicine and Human Nutrition MSc courses.

I frequently supervise laboratory research projects for PhD, MSc, BMedSci, Erasmus or Hallam placement students.
Professional activities

I am a committee member of the Bone Research Society and currently organizing a basic Bone & Joint workshop in Sheffield in November 2017.
I am an organiser of the Bone Oncology and Tumour Microenvironment Workshop.
I am a member of the International Bone and Mineral Society and Cancer & Bone Society.
I have funded collaborations with Farhat Khanim (University of Birmingham), Lisa Crawford (Queens University, Belfast) and Professor Graham Russell (University of Oxford).
I have also been involved in a number of public engagement activities. I have secured funding that enabled me to build a "Giant Interactive Bone" to educate children of all ages on what is inside their bones. In addition, I regularly participate in Outreach activities with a variety of school children to teach them about why their bones are so important. I frequently do laboratory tours for fundraisers and patients with bone cancer, and I also participate in patient panel meetings to improve the services at the Royal Hallamshire Hospital in Sheffield.