Dr Munitta Muthana
Department of Oncology and Metabolism
Senior Lecturer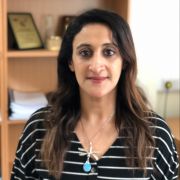 m.muthana@sheffield.ac.uk
+44 114 215 9057
D Floor, The Medical School
Full contact details
Dr Munitta Muthana
Department of Oncology and Metabolism
D Floor
The Medical School
Beech Hill Road
Sheffield
S10 2RX

Profile

For enquiries, please contact - om-operational@sheffield.ac.uk

I joined The University of Sheffield in 2002 as a post-doctoral scientist in the Immunobiology Research Unit. From 2005 I held a research position in the Tumour Targeting Group where I was awarded funding as an independent researcher from the Prostate Cancer Charity (2007) and the Medical Research Council (2010). In 2011 I was appointed as a non-clinical lecturer.
Research interests

Our research focuses on the role of innate immune cells like macrophages in inflammatory disease including cancer. Recently, we have used our knowledge of this area to develop innovative cell-based methods to target anticancer therapies to tumours. For example, we have devised a way to use macrophages to deliver large quantities of cancer-killing virus to both primary and secondary tumours simultaneously.

We are also interested in developing innovative approaches to improve the targeting of cancer therapies only to the tumour so that healthy tissue remains unharmed. To do this we have developed a novel nanomagnetic approach.

BBC News report on Trojan-horse therapy

---

Current projects

Targeting novel oncolytic viruses to tumours
Using nanomagnet technology to improve tumour targeting
Developing novel magnetic devices for cancer
Characterisation of infiltrating subsets of monocytes/macrophages in diseased tissues including the arthritic joint and the tumour microenvironment
Publications
Teaching interests

I teach on the MBChB course and am the module lead for the phase 2 immunology module. I also deliver the cell-based therapies and tumour immunology lectures for the BSc Biomedical Sciences degree course and the medical school Masters in Molecular Medicine and Translational Oncology.
Professional activities

American Association of Cancer Research (AACR)
British Society of Immunology (BSI)
European Macrophage and Dendritic Cell Society and British Society of Immunology