Dr Ruth Thompson
Department of Oncology and Metabolism
Royal Society Dorothy Hodgkin Research Fellow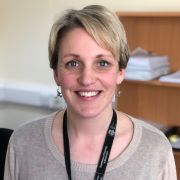 Profile

For enquiries, please contact - om-operational@sheffield.ac.uk

2018 - present
Royal Society Dorothy Hodgkin Research Fellow
Department of Oncology & Metabolism, University of Sheffield, Sheffield, UK.

2016 - 2018
JG Graves Academic Fellow
Unit of Molecular Oncology, University of Sheffield, Sheffield, UK.

2013 - 2015
Post-doctoral Researcher
Division of Haematology and Medical Oncology, Mount Sinai Hospital, New York, USA.

2010 - 2013
Post-doctoral Researcher
Geisel School of Medicine, Dartmouth College, New Hampshire, USA.

2006 - 2010
PhD
YCR Institute for Cancer Studies, University of Sheffield, Sheffield, UK.

2003 - 2006
BSc
Genetics, University of Sheffield, Sheffield, UK.
Research interests

It is commonly understood that DNA damage is largely sensed and repaired in interphase and it is proposed that DNA repair is largely repressed during mitosis due to the risk of telomere fusion.

Cancer treatments such as chemo and radiotherapy induce massive amounts of DNA damage leading to cell death of rapidly dividing cells. Some cancers have developed resistance to these agents by repairing the damage prior to cell division. For this reason, drugs which target the well-known interphase DNA repair pathways are rapidly being developed for use in the clinic. Drugs such as these could be substantially less effective if there was also a DNA damage checkpoint in mitosis.

The aim of my research is to understand what happens when a cell with damaged DNA arrives in mitosis due to dysfunctional interphase checkpoints. I want to understand which signalling proteins are involved and hope to discover the mechanism by which DNA damage is sensed and targeted for repair in mitosis.

Understanding and inhibiting this pathway could lead to sensitization of tumours to standard cancer agents and thus represents a novel site of therapeutic intervention.
Publications