A brief history of Sir Edward Mellanby, the British physician and pharmacologist for whom the Mellanby Centre was named.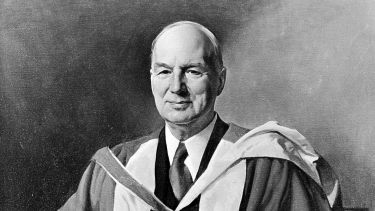 Sir Edward Mellanby was born in West Hartlepool, England, the youngest son of John Mellanby, a shipyard owner, and his wife Mary Isabella Lawson. Mellanby attended Barnard Castle School and Emmanuel College in Cambridge, England, where he studied physiology. 
After working as a research student from 1905 to 1907, Mellanby studied medicine at St. Thomas's Hospital in London, and he held a fellowship for medical research from 1910 through 1912. He was married in 1914 to May Tweedy, of London, who was also a researcher in physiology. The following year, Mellanby became a medical doctor.
From 1913 to 1920, Mellanby served as a lecturer at King's College for Women in London, where he later became a professor in physiology. In 1914, the Medical Research Committee of the college asked Mellanby to investigate the cause of rickets, a bone disease characterised by bone pain, skeletal deformity, impaired growth and weakness.
Searching for a dietary deficiency that caused rickets, Mellanby decided to test porridge, the staple food of Scotland, by feeding a group of dogs a diet consisting exclusively of oats. Inadvertently, the dogs were kept indoors, without exposure to sunlight, during the experiment. In 1919, Mellanby reported that he produced rickets in the dogs through a restrictive diet. He then cured the dogs of rickets by adding cod-liver oil to their diet.
Mellanby concluded that a component of cod-liver oil that the oats did not contain was essential in preventing rickets. As a result, Mellanby proposed that rickets was caused by the absence of a dietary factor. Scientists would later discover that rickets is prevented by vitamin D, which can either be consumed as a dietary factor or produced naturally by the body when exposed to sunlight.
In 1920, Mellanby was appointed chair of the pharmacology department at the University of Sheffield in England, and an honorary physician to the Royal Infirmary. He held these positions until 1933 when he became secretary of the Medical Research Council, which had been established by the British Government in 1913. He was closely involved with the planning of the new Institute of Medical Research, which opened in 1950 in London.
During World War II, Mellanby was involved with programmes to create a wartime diet as well as programmes to promote the welfare of both military and civilian personnel.  After retiring from the Medical Research Council in 1949, he travelled to India, Australia and New Zealand to serve as an advisor. After his return to England, he gave several public lectures. 
Mellanby died on January 30, 1955, while working in his London laboratory.