Mellanby Centre Annual Research Day 2023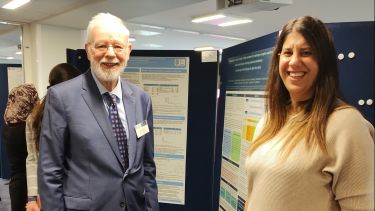 The Mellanby Centre for Musculoskeletal Research was set up within the University of Sheffield 14 years ago and we held the annual research day at Inox Dine in March 2023. Richard Eastell is the Director of the Centre and he opened the meeting by explaining the strategic importance of the Centre. The Centre has been the basis of grant success and was successful in receiving further funding for the Centre for the Integration of Research into Musculoskeletal Ageing (CIMA) and the Experimental Cancer Treatment Centre.
The opening speaker was Professor Ashley Blum, Vice President and Head of the Faculty of Medicine, Dentistry and Health. He has recently moved to Sheffield from the University of Bristol where he was Head of the Medical School, and he set out his plans for the Faculty. He discussed his research work on joint replacements and infection and described the ongoing INFORM study and he stressed the importance of teamwork and of patient preference.
Professor Ananya Choudhury is Chair of Clinical Oncology at the Christie in Manchester and she spoke about molecular radiotherapy. She compared the recent advances in this field in prostate cancer with 177-Lu-PMSA and compared the efficacy with that of 223-Ra.
Professor Tilli Tansey is the Emeritus Professor Medical History and Pharmacology at Queen Mary's in London. She spoke about Edward and May Mellanby and how they were brought to Sheffield around 1920 due to the work of the Professor of Physiology, JB Leathes, one of the giants of Sheffield Medical School. Both husband and wife worked on cod liver oil as a source of vitamin D, Edward on bones, May on teeth.
Professor Morten Frost is from Odense University Hospital in Southern Denmark, and his presentation concerned the mechanism whereby diabetes results in an increase in fracture risk, contrasting the effects of types 1 and 2.
Professor Christine Le Maitre has recently been appointed to the University of Sheffield as Professor of Musculoskeletal Cell Biology and Tissue Regeneration. Her work concerns osteoarthritis and disc degeneration, and impressively is currently supervising 16 PhD students, many of whom presented their work at the meeting.
Finally, Dr Meena Balasubramanian, a Senior Clinical Lecturer in Musculoskeletal Genetics, who was recently awarded an MRC Fellowship told us of her work on genetic bone diseases, using hypophosphatasia and osteogenesis imperfecta as her examples.
We held snap poster presentations for the sixth time as these are a popular format. They were one-minute presentations on why someone should attend the poster and this year we applied the approach to all our posters. We awarded a prize to for the snap presentations to Jacky Wong who presented in exactly 60 seconds. The best poster presentations were won by Alex Sprules and Muna Nuh Ali. The best oral presentations were won by Diane Lefley and Lisha Jeena.