Find out about who we are and what we do here at the Modern Languages Teaching Centre!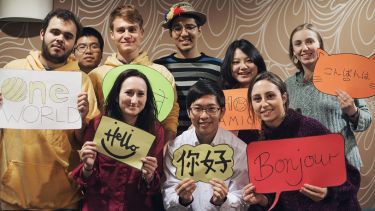 On
Founded in 1993, the Modern Languages Teaching Centre (MLTC) is the main language teaching provider for the University of Sheffield. We currently deliver specialist and non-specialist language training in thirteen languages to over 2,500 students each year, both undergraduate and postgraduate as well as staff and members of the public. 
We work in close collaboration with the School of Languages and Cultures to deliver the language components of their highly successful BA in Modern Languages and Cultures. And, through our Languages for All programme, we work with departments across the institution, to enhance the skill portfolio of their undergraduate and postgraduate students, and prepare them for placements and further professional experience abroad.
All our language teachers are fully qualified and highly experienced in language teaching as a foreign language and most are native speakers of the language they teach, not only giving students expert knowledge of how the language is used, but also direct access to their culture.
---
The MLTC's teaching approach is primarily a communicative one, emphasising the importance of intercultural awareness and independent learning for general and specific purposes. We are also highly committed to embedding the most recent technologies into our teaching using, for instance, digital language labs (Sanako), and implementing flipped and enquiry-based learning approaches in our pedagogy. This produces a learning environment that is inclusive, dynamic, interactive and fun.
---
We teach language competence in the four main skills: listening and reading comprehension, and written and oral production. We have a learner-centred approach, focusing on empowering students to communicate and use the language in all sorts of situations, depending on their level, from everyday interactions to presenting and writing in professional settings.
---
Anyone can study a language, whether or not they have had the opportunity to in the past. We value the diversity of backgrounds that our students and staff come from and our teaching is reflective of the diversity of experience and knowledge that our learners possess. An inclusive approach to language teaching means looking at the ways that language shapes our understanding of the world, and this often lags behind our linguistic understanding as our knowledge and understanding change. 
The inclusive and diverse environment is reflected in the breadth of our students' interests, which range from achieving high-level proficiency in Modern Foreign Languages as part of their degree, developing linguistic and cultural knowledge in preparation for a placement or study abroad, communicating with family and friends, or supporting leisure or travelling activities. In all cases, we are firmly committed to meeting their individual needs and to maintaining what an internal audit identified as 'an outstanding standard of teaching and learning for their students'.
---
We teach language and content in a holistic way so that students become naturally fluent in the culture as well as the language they learn.
Learning a language with us will also help you develop the additional skills that you will take with you to the world beyond the classroom: 
Critical thinking skills
An awareness of global issues that inform our understanding of the world we live in 
The ability to use digital technologies to enhance your learning
Effective collaboration with people from a wide variety of backgrounds. 
This blend of essential employability skills and the ability to communicate in another language will equip you with the attributes you need to succeed and it makes the MLTC an outstanding place to learn. 
---
The MLTC offers official, nationally accredited language competency examinations in the following languages:
We are planning to open more such centres in the next couple of years in Spanish, German and Italian.