The Optomec AJ300 series system is a 2.5 D printer owned by Prof. Jon Willmott and his research group. They have experience using the printer to print antennas and many other things.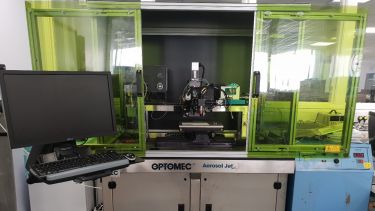 Off
The Optomec AJ300 series system is a prototyping additive manufacturing flatform for 2.5D printing. It utilises Aerosol Jet technology to print an enormous variety of conductive, semiconductor and dielectric materials onto non-planar surface geometries and traditional and unconventional substrates.
The moving stage of the printer is accurate to 1 µm and the nozzle provides a minimum feature size of ~10 µm. The system includes a 700 mW laser for post processing inks allowing material to be printed onto temperature sensitive substrates.
A design can be printed from a CAD drawing in minutes affording rapid, successive rounds of prototyping and testing to iteratively perfect antenna performance.
You can read more about Prof. Jon Willmott's research group printing antennas and testing them at the National mmwave measurement Facility on the University of Sheffield's Department of Electronic and Electrical Engineering news page linked below.
Flagship institutes
The University's four flagship institutes bring together our key strengths to tackle global issues, turning interdisciplinary and translational research into real-world solutions.