The N5245B is a class leading four port vector network analyser to 50GHz. The VDI frequency extenders convert the PNA-X into a two port VNA beyond 50GHz to 110GHz.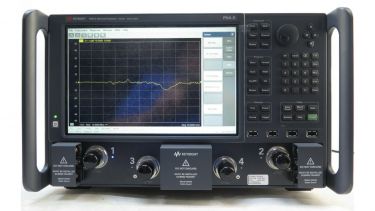 Off
The PNA (and VDI modules) can be used on its own or with the wafer probe station. Alternatively, it can be used as part of the NSI antenna measurement system.
In addition to full Transceiver (TxRx) modules, we have Transmit-Reference (TxRef) modules and Receive only (Rx) modules.
The modules we have are
N5262BW15 WR15+, 47-77 GHz, TxRx Mini VNAX
N5262BR15 WR15, 47-77GHz, Rx (Receiver only) VNAX
N5262BW10 WR10+ 67-115GHz TxRx Mini VNAX
N5262BR10 WR10, 67-115GHz, Rx (Receiver only) VNAX
Our units cover the full 47GHz to 110GHz range using two units.
Flagship institutes
The University's four flagship institutes bring together our key strengths to tackle global issues, turning interdisciplinary and translational research into real-world solutions.