Recognition in the rankings
We are proud of the hard work and dedication by our academic and professional service colleagues throughout the pandemic that ensured an outstanding level of teaching and support for our student community was maintained.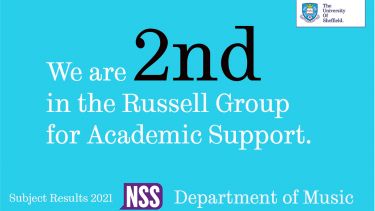 Below is a summary of the rankings and recognitions the Department of Music received in 2021:
Department of Music ranked 10th in the UK for music (The Times UK)
Department of Music ranked 16th in the UK for music (2022)
93.6% of students satisfied with teaching on the course
Department of Music is ranked 11th in the UK for music
Department of Music recognised for its recent work on department sustainability, receiving a silver award from Students Organising for Sustainability United Kingdom (S0S).
The Department of Music was ranked 2nd in the Russell Group for Academic Support (2021).

University of Sheffield subjects ranked among the best for student satisfaction. Despite the challenging year due to the Covid-19 pandemic, the overall satisfaction of Sheffield students is at 80 per cent - four per cent above the national sector-wide average, according to the National Student Survey (NSS) (2021).
Top 6th in the UK for Research Excellence in Music. 
The most recent Research Excellence Framework in 2014 confirmed our place as a world-leading university. The results demonstrated our research excellence across a range of disciplines, putting us in the top 10 per cent of all UK universities.
In the most recent Research Excellence Framework, 99 per cent of the University of Sheffield's research was assessed as world-leading, internationally excellent or internationally recognised. We're top 10 in the Russell Group for research outputs.
Arts and Humanities Faculty
The University of Sheffield has been ranked among the top 100 universities in the world for teaching and research in the arts and humanities
Sheffield has been ranked 67th out of more than 600 universities worldwide
 Times Higher Education World University Rankings
For 2022, we look forward to further recognition for the outstanding research and teaching. The University of Sheffield has already started the year well by receiving a high rating in the QS world rankings.
QS World University Rankings
The University is rated 95th in the world (2022)
17th in the UK
2nd in Yorkshire and the Humber 
A world-class university – a unique student experience
Sheffield is a research university with a global reputation for excellence. We're a member of the Russell Group: one of the 24 leading UK universities for research and teaching.