BenevolentAI progresses BEN-34712 for the potential treatment of ALS into IND-enabling studies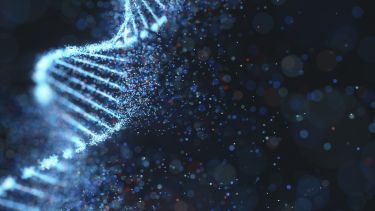 Benevolent AI have today, 5 June 2023, published the following release announcing the successful delivery of its pre-clincal candidate, BEN-34712, for the potential treatment of amyotrophic lateral sclerosis (ALS), otherwise know as motor neurone disease (MND) in the UK. 
Dr Richard Mead, Senior Lecturer in Translational Neuroscience, explains the announcement and what it means for patients.
"Myself and Prof. Laura Ferraiuolo  have been collaborating with Benevolent AI to develop new drugs for the treatment of MND. The collaboration brings together the very complementary expertise of each partner. Benevolent AI can use artificial intelligence to find the best drug targets and accelerate drug development. In SITraN, a research facility at the University of Sheffield, we have some of the best models to test new drugs and give confidence that they will be successful in clinical trials.
"The drug discovery process involves creating many different versions of the drug and testing their properties. We need drugs that are potent, stable in the body and can reach motor neurons and astrocytes in the brain and spinal cord. Benevolent AI have developed such drugs and we have worked together to find a candidate drug that has these properties and also works very well in our cell and animal models of MND. The cell models use brain cells (astrocytes) which are converted from the skin cells of MND patients. The animal model uses a mouse that carries a gene defect found in MND patients. Having a drug that works well across both these models significantly increases our confidence that it will work in patients. This has allowed Benevolent AI to move this drug into the next critical phase which will be the safety testing required before it goes into clinical trials."
BenevolentAI progresses BEN-34712 for the potential treatment of ALS into IND-enabling studies
BenevolentAI ​​(Euronext Amsterdam: BAI), a leader in the development of cutting-edge AI that accelerates biopharma discovery, announces the successful delivery of its pre-clinical candidate for the potential treatment of amyotrophic lateral sclerosis (ALS), BEN-34712.
BEN-34712 is an oral, potent and selective brain penetrant RARɑ? (retinoic acid receptor alpha beta) biased agonist and will now enter investigational new drug (IND)-enabling studies.
Impaired retinoic acid signalling has been shown to result in neuroinflammation, oxidative stress and mitochondrial dysfunction, all hallmarks of ALS. In preclinical studies conducted by the Company, BEN-34712 was neuroprotective in a patient-derived, disease-relevant in vitro motor neuron/iAstrocyte co-culture model, demonstrating significant efficacy in both sporadic and familial subtypes of ALS. In addition, BEN-34712 has demonstrated both central nervous system (CNS) target engagement and functional protective effects in the SOD1G93A mouse model of ALS after 50-day repeat dosing. 
BenevolentAI collaborated with the Sheffield Institute for Translational Neuroscience (SITraN) at the University of Sheffield on this programme, utilising their patient-derived motor neuron/iAstrocyte co-culture systems and in vivo model expertise. 
Anne Phelan, Chief Scientific Officer, BenevolentAI, said: "There remains a significant and urgent need for new and alternative therapies for patients with ALS. We are pleased by the promising advancement of our drug candidate, BEN-34712, towards clinical development, backed by the compelling preclinical data generated by our collaborators at SITraN."
Richard Mead, Senior Lecturer in Translational Neuroscience at SITraN, commented: "ALS patients suffering from this devastating neurodegenerative disease are in dire need of effective therapy, with the current standard of care options focusing on symptom management or offering limited clinical benefit. We believe BEN-34712 represents an exciting development in our research for a potential new treatment, particularly as it shows effectiveness in both the SOD1G93A mouse model system as well as familial and C9orf72 related ALS patient-derived cell models."
About ALS
ALS is a progressive neurologic disorder characterised by the loss of cortical and spinal motor neurons, leading to the denervation of nerve endplates, axonal retraction and subsequent muscle atrophy. The average survival time following the initial diagnosis is around two-three years, and while there are drugs approved by the US FDA for ALS, they provide only modest benefits to patients, underwriting the urgent need for new and alternative therapies. 
 
About BenevolentAI
BenevolentAI (AMS: BAI) is a leading developer of advanced artificial intelligence technologies that unlock the value of multimodal data, surface novel insights, and accelerate biomedical discovery. Through the combined capabilities of its AI platform, its scientific expertise, and wet-lab facilities, the Company is developing an in-house drug pipeline of high-value assets. The Company is headquartered in London, with a research facility in Cambridge (UK) and a further office in New York.
​​About SITraN at the University of Sheffield
The Sheffield Institute for Translational Neuroscience (SITraN) is an essential development in the fight against motor neurone disease and other common neurodegenerative disorders, including Parkinson's and dementia, as well as stroke and multiple sclerosis.

SITraN has the potential to bring new treatments and new hope to patients and carers in the UK and worldwide, by significantly accelerating the pace of therapeutic development using technologies such as experimental modelling of disease, gene therapy and stem cell biology, gene expression profiling and bioinformatics analysis and modelling of the biological processes.Since its opening by Queen Elizabeth II in 2010, SITraN has grown immensely and developed into a leading global facility which is at the forefront of research and expertise.
Forward-looking Statements  
This release may contain forward-looking statements. Forward-looking statements are statements that are not historical facts and may be identified by words such as "plans", "targets", "aims", "believes", "expects",  "anticipates", "intends", "estimates", "will", "may", "should" and similar expressions. Forward-looking statements include statements regarding objectives, goals, strategies, outlook and growth prospects; future plans, events or performance and potential for future growth; economic outlook and industry trends;  developments in BenevolentAI's markets; the impact of regulatory initiatives; and/or the strength of  BenevolentAI's competitors. These forward-looking statements reflect, at the time made, BenevolentAI's  beliefs, intentions and current targets/aims. Forward-looking statements involve risks and uncertainties  because they relate to events and depend on circumstances that may or may not occur in the future. The  forward-looking statements in this release are based upon various assumptions based on, without limitation,  management's examination of historical operating trends, data contained in BenevolentAI's records, and third party data. Although BenevolentAI believes these assumptions were reasonable when made, these assumptions are inherently subject to significant known and unknown risks, uncertainties, contingencies and  other important factors which are difficult or impossible to predict and are beyond BenevolentAI's control.  Forward-looking statements are not guarantees of future performance, and such risks, uncertainties,  contingencies and other important factors could cause the actual outcomes and the results of operations,  financial condition and liquidity of BenevolentAI or the industry to differ materially from those results expressed  or implied by such forward-looking statements. The forward-looking statements speak only as of the date of this release. No representation or warranty is made that any of these forward-looking statements or forecasts  will come to pass or that any forecast result will be achieved.
Partner with us
We're proud to work with local and global organisations to further enhance our translational research.
Flagship institutes
The University's four flagship institutes bring together our key strengths to tackle global issues, turning interdisciplinary and translational research into real-world solutions.