Our partnership with, and proximity to, Sheffield Teaching Hospitals NHS Foundation Trust and the University of Sheffield's cutting-edge neuroscience facilities ensure that our dedicated researchers have access to the highest quality scientific technologies.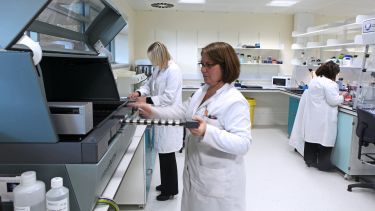 Off
Across our three integral research pillars, we have a range of outstanding specialist facilities that enable us to connect with partners in industry and other world-leading institutes.
Our revolutionary scientific facilities are run by experts who carry out large-scale research projects and aid collaboration across the Neuroscience Institute.
Find out about our key facilities:
Sensory and developmental facilities
Cognitive neuroscience and metal health
---
Translational neuroscience
Sheffield Institute for Translational Neuroscience
The Sheffield Institute for Translational Neuroscience (SITraN) is an international centre of excellence recognised for its groundbreaking work in the fight against motor neurone disease and other common neurodegenerative disorders of the motor system.
Bioinformatics core
We carry out analysis of next generation sequencing and gene expression. We also have a programme of training courses.
Computational biology
Our computational biologists develop mathematical models which assimilate data from clinical studies and biological experiments.
Drug discovery
The Drug Discovery laboratory has state-of-the-art equipment which allows optimised storage of our test drugs and compounds in a fully automated system using dry nitrogen. High-throughput liquid dispensing systems allow large scale screening experiments to be conducted rapidly.
Genomics and sequencing
Our genomics and sequencing facility is an Affymetrix accredited laboratory which houses an Affymetrix Gene Chip Microarray system. It recently extended capacity to include an Illumina HiScan SQ system for sequencing by synthesis.
Neuropathology and histology
The Neuropathology lab provides a wide range of services for tissue preparation and staining and has a full range of histology equipment, including tissue processor, semi-automated microtome which can accommodate jumbo blocks, cryostat and automated Immunostainer.
NIHR Clinical Research Facility
The National Institute for Health Research (NIHR) Sheffield Clinical Research Facility (CRF) recruits patients into clinical trials which provide evidence for making decisions which result in more efficient ways of providing healthcare and improvements to how we treat patients.
NIHR Sheffield Biomedical Research Facility
The National Institute for Health Research (NIHR) Sheffield Biomedical Research Centre (BRC) is the UK's only Biomedical Research Centre dedicated to neuroscience. The centre is focused on translational neuroscience for chronic neurological disorders and aims to improve our understanding in fields from dementia and stroke, Parkinson's disease and motor neurone disease, multiple sclerosis, gluten-related neurological disorders and ataxia.
RNA and Molecular Biology laboratory
The RNA Biology Laboratory was established to carry out a broad variety of biochemistry and molecular biology techniques ranging from the genetic engineering of cell models, the isolation of macromolecular complexes and RNA, the purification of recombinant proteins, the characterisation of biological interactions to the use of radiolabeled proteins and nucleic acids.
Human neuroimaging
In addition to carrying out neuroimaging research studies in well-characterised patient cohorts, we have a track record of local, national and international collaboration in areas ranging from neurodegenerative disease and epilepsy, to cognitive neuroscience and psychiatric disease.
Our human brain imaging facilities are expanding and currently include:
Pre-clinical imaging
In Sheffield we're developing technologies that allow us to image the same subject across a range of spatial scales and time. This mean we can assess normal function and disease, and capture better quality data from fewer subjects.
---
Cellular imaging
We have dedicated facilities for light microscopy and electron microscopy. These are complemented by the University's ambitious Imagine project which provides state-of-the-art techniques in imaging from molecular structures to whole organisms. Our researchers also have access to the Wolfson Light Microscopy Facility which includes confocal, widefield imaging, super resolution and light sheet fluorescence microscopy.
---
Sensory and developmental neuroscience
The Bateson Centre
The Bateson Centre is a vibrant partnership between basic and clinician scientists at the University of Sheffield, and is the world's first centre for lifecourse biology. Our scientists study mechanisms of change throughout life, including growth, remodelling, degeneration and repair with obvious importance in maintaining health and treating disease.
Centre for Stem Cell Biology
The centre is focused on developing the basic biology and technology underpinning the use of stem cells for applications in medicine. Our researchers carry out fundamental and applied research on the biology of pluripotent stem cells with the aim to develop cell therapies for regenerative medicine.
---
Cognitive neuroscience and mental health
Active Touch Lab
The Active Touch Laboratory uses methods in animal behaviour, neuroethology, human psychophysics, computational modelling and robotics to investigate tactile sensing in animals, people and intelligent machines.
Adaptive Behavior Research Group
The Adaptive Behaviour Research Group aims to form an understanding of animal and human behaviour by studying computer models of neural circuits and the behaviour patterns of robots using these models. The group are multidisciplinary, drawing on ideas from computational neuroscience, adaptive behaviour, neuroscience, ethology, evolutionary biology, connectionism and robotics.
INSIGNEO
The Institute for in silico Medicine at the University of Sheffield is Europe's largest research institute dedicated entirely to the development, validation, and use of in silico medicine technologies. INSIGNEO's mission is to perform cutting edge research in areas of fundamental and applied biomedical modelling, imaging and informatics, implementing the scientific ambition behind the Virtual Physiological Human and transforming healthcare.
Research Software Engineering Facility
The Research Software Engineering (RSE) group is a service available to the Neuroscience Institute which aims to help improve research software. It can provide dedicated staff to ensure the delivery of excellent research software engineering on research projects. Supporting the entire University, the RSE group has collaborators in every faculty and have supported researchers in a range of subject areas. Importantly for the Neuroscience Institute, we offer expertise code optimisation and performance, reproducibility and embedding good software engineering practice with projects or teams, graphics processing unit computing and deep learning, statistical analysis and data visualisation, high performance computing for local/national/international/cloud systems, general software development, development of impact case studies, consultancy, training and education delivery and support. The group can provide dedicated research software engineering support for research grants or engage with researchers through our free community activities such as code clinics and training.
Sheffield Robotics
Sheffield Robotics has one of the largest portfolios of ongoing publicly-funded robotics research in the UK, supported by both the UK Research Councils and the European Union. The centre is also building research partnerships with leading industrial, commercial, and government organisations in order to ensure real-world relevance and impact.
We also have a number of specialist laboratories and facilities, including:
Electrophysiology laboratories
Motion capture laboratories
Neurophysiology and Human Psychophysiology laboratories
Optical imaging laboratories
Transcranial Direct Current and Transcranial Magnetic Stimulation facilities
Partner with us
We're proud to work with local and global organisations to further enhance our translational research.