New partnership to progress treatments for neuroinflammatory diseases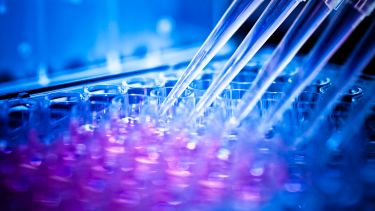 Quell Therapeutics are a biotechnology company developing engineered T regulatory (Treg) cell therapies. Under the new agreement, researchers at the University of Sheffield will collaborate with Quell Therapeutics in a joint research programme. The project will accelerate Quell's engineered Treg cell therapy platform for use in the treatment of neuroinflammatory diseases.
Professor Dame Pamela Shaw, Director of SITraN and the NIHR Sheffield Biomedical Research Centre said, "We are very excited to partner with Quell Therapeutics to explore developing new approaches for addressing the inflammatory component of neurodegenerative disorders."
"There is increasing evidence of the role of neuroinflammation as a key driver in these diseases, as well as Tregs being a key mediator of immune homeostasis in the CNS tissue."
"Quell have assembled an impressive multi-disciplinary team with expertise from Treg biology through to cell therapy development and manufacturing. We look forward to working with them to translate their platform into therapies for neurodegenerative disorders."
The research collaboration will enable Quell to access the disease expertise and translational capabilities of the SITraN team. Researchers aim to validate multiple therapeutic candidates developed using Quell's engineered Treg cell therapy platform, including accessing SITraN's suite of in vitro and in vivo disease models. The collaboration will also pursue translational work to further understand the immunobiology of neurodegenerative diseases by profiling patient biosamples, collected by SITraN in collaboration with the NIHR Sheffield Biomedical Research Centre (BRC).
Iain McGill, Chief Executive Officer of Quell Therapeutics explains, "We have made great progress at Quell over the past 18 months building out our engineered Treg cell therapy platform and progressing our lead asset QEL-001 for liver transplantation towards the clinic."
"Our partnership with Professor Dame Pamela Shaw and her team at SITraN will be key in accelerating our path to the clinic in the field of neuroinflammation, a new area of Quell's pipeline. We are excited to progress this work with the goal of developing truly transformational engineered Treg cell therapies for patients living with devastating neurodegenerative disorders."
---
Quell Therapeutics
Quell Therapeutics is a privately held biotechnology company with a vision to become a leading engineered Tregs cell therapy company. The company is developing next generation engineered T regulatory (Treg) cell therapies for a range of diseases of immune dysfunction.
Quell Therapeutics was founded by Syncona in partnership with six leading experts in the Treg field, cell engineering, solid organ transplantation and autoimmune diseases: Giovanna Lombardi, Professor of Human Transplant Immunology at Kings College London (KCL), Alberto Sanchez-Fueyo, Professor of Hepatology in the Institute of Liver Studies at KCL, Hans Stauss, Professor of Tumour Immunology and Director of the Institute of Immunity and Transplantation at University College London (UCL), Emma Morris, Professor of Clinical Cell & Gene Therapy and Inflammation, Immunity and Immunotherapeutics Theme Director, National Institute for Health Research University College London Hospitals Biomedical Research Centre, Marc Martinez-Llordella, Senior Lecturer in the Institute of Liver Studies at KCL and Elmar Jaeckel, Co-Leader Liver Transplant program MHH, Group Leader "Immune tolerance" in the Department of Gastroenterology, Hepatology and Endocrinology at Hannover Medical School.
NIHR Sheffield Biomedical Research Centre
The National Institute for Health Research (NIHR) is the nation's largest funder of health and care research. The NIHR:
Funds, supports and delivers high quality research that benefits the NHS, public health and social care

Engages and involves patients, carers and the public in order to improve the reach, quality and impact of research

Attracts, trains and supports the best researchers to tackle the complex health and care challenges of the future

Invests in world-class infrastructure and a skilled delivery workforce to translate discoveries into improved treatments and services

Partners with other public funders, charities and industry to maximise the value of research to patients and the economy
The NIHR was established in 2006 to improve the health and wealth of the nation through research, and is funded by the Department of Health and Social Care. In addition to its national role, the NIHR commissions applied health research to benefit the poorest people in low- and middle-income countries, using Official Development Assistance funding.
This work uses data provided by patients and collected by the NHS as part of their care and support and would not have been possible without access to this data.
The NIHR recognises and values the role of patient data, securely accessed and stored, both in underpinning and leading to improvements in research and care. www.nihr.ac.uk/patientdata
Partner with us
We're proud to work with local and global organisations to further enhance our translational research.