Public lecture: From genes to advanced therapies for neurodegenerative diseases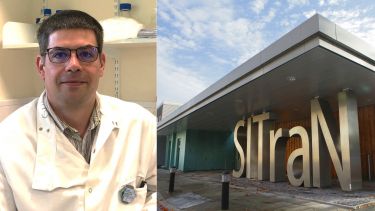 From genes to advanced therapies for neurodegenerative diseases
A scientific journey through time and discoveries
Friday 28th February, 5pm
Sheffield Institute for Translational Neuroscience (SITraN)
Followed by a drinks reception
In October 2019, Dr Guillaume Hautbergue, Senior Lecturer in Translational RNA Biology in the Department of Neuroscience, was elected as a Fellow of the Royal Society of Biology. Dr Hautbergue was selected in recognition of his prominent contribution to the advancement of the Biological Sciences.
In celebration of this prestigious award, Dr Hautbergue will deliver a public lecture at the Sheffield Institute for Translational Neuroscience (SITraN).
Dr Hautbergue joined SITraN in August 2012 to set up a specialist laboratory for RNA Molecular Biology. His area of research and teaching focuses on the investigation of gene expression in physiological and neurodegenerative diseases with a particular research focus on motor neurone disease (MND).
Research in his group aims at identifying dysregulated gene expression events that cause incurable neurodegenerative conditions such as MND in order to correct these using gene therapy approaches.
Dr Hautbergue and colleagues showed for the first time that manipulating a cellular process involved in the transport of RNA molecules across nuclear pores confers a novel potential strategy of neuroprotection for the most common form of MND.
Throughout his career, Dr Hautbergue has had a variety of roles across the RNA field which have allowed him to become an advisor to students and colleagues on translational and RNA biology experiments. As an elected member of the Royal Society of Biology, Dr Hautbergue will also contribute to policy making, strategy and influence developments in science within the Royal Society of Biology.
On being elected as a Fellow of the Royal Society of Biology, Dr Hautbergue said: "It is a great honour and privilege to have been invited to become a Fellow of the Royal Society of Biology following a nomination and a review process that was unknown to me."
"None of this would have been possible without the excellent researchers that are surrounding me, both junior and senior, as well as all of the technical and professional teams that support our work. I would like to thank all of them for the inspiring research and teaching atmosphere they create in the Department of Neuroscience."
Being part of the Royal Society of Biology means that Dr Hautbergue joins a community of over 17,500 leading minds that make up the diverse membership of individuals and organisations from across the world.
Partner with us
We're proud to work with local and global organisations to further enhance our translational research.